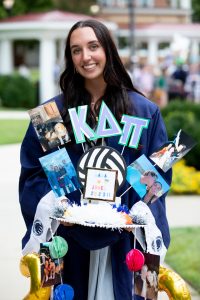 Hello! My name is Sara Jones and I am a class of 2023 senior at Longwood University with a major in Communication Sciences and Disorders.
Growing up I loved taking care of children and always dreamed of working with them in the future. Since then, I have decided to take the path to become a Pediatric Speech-Language Pathologist. I decided to pursue this career because it allows me to work with many different children and improve not only the children's lives but the lives of their families. Being able to communicate is very important in all aspects of life and the ability to ensure that my clients are comfortable and confident with their communication is something that I am looking forward to.
Aside from my major, I try to be active around the Longwood Community. My junior year, I started building my leadership skills when I was elected the Vice President of the Women's Club Volleyball team. I quickly got the hang of and fell in love with being a leader on a team, which encouraged me to apply to many different positions my senior year. This year I was grateful to be awarded three leadership positions: President of Women's Club Volleyball, Assistant Director of the Big Event, and President of the Sports Club Council. Aside from this I have been initiated into two academic honors societies throughout my college career. These honors societies include Kappa Delta Pi and Phi Kappa Phi. I was extremely thankful that I was invited to join these honors societies due to my academic excellence and feel that my involvement in the two have helped to shape who I have become as a person. With these leadership positions and honors societies, I also involved myself in other clubs that stood for something I was passionate about. The National Student Speech Language Hearing Association and Operation Smile are two clubs that are related to my major of Communication Sciences and Disorders. Joining these clubs continued to enhance my knowledge within my major and make connections for the future. I am also a part of the Cormier Honors College as I mentioned above, which has continued to provide me with many opportunities such as studying abroad. The opportunity to travel abroad while furthering my education was an experience that I will never forget. Not only did it push me out of my comfort zone, but it taught me how much I love traveling and learning about the world and cultures around me. My time at Longwood has shaped me into the person I have strived to be and I can't wait to return next year to further my education in the Communication Science and Disorders Graduate program.