One way I grew was when I was in the Honors Student Association my first semester at Longwood. I was a part of a during the Campus Wide Committee. My committee was responsible for planning an event that raised awareness about HSA as well as a charity of our choice. The charity we discussed was Hearing Charities of America. This was the first time I joined a committee at Longwood. Myself and the other two members of the committee were all freshman, and we did not know everything necessary to have an event on campus. Due to this we did have to change the nature of our event, as it was initially going to be a fundraiser, but it was a learning opportunity for the future. We still got to have an event that raised awareness for the organization, and people could still technically donate money as long as the money went to the organization directly, so the event was still successful.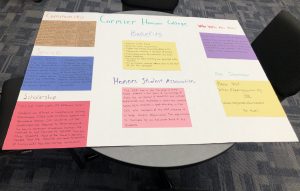 Another way I have grown is through my sorority. During Fall 2020, I became the Director of Philanthropy and was responsible for a variety of things. Some of my tasks involved organizing events, holding meetings, fundraising for our philanthropies, and communicating with my sorority sisters and other sororities in order to make sure events were going as smoothly as possible. Several of my tasks were typically reliant on meeting in-person, such as fundraising during Relay for Life, so it was a challenge to adapt to an online platform. However, through trial and error, I learned how I could perform my duties in a way that was still COVID safe.
Even from my first semester with my position compared to my second semester, I have noticed a difference. I am a lot more confident at fundraising events, meaning I am not afraid to try and get people's attention. I've also had more ideas with how we can raise money, such as by making t-shirts and having a lemonade stand.
The picture below features part of a banner from one of my sorority's domestic violence awareness tabling events. The banner said "These hands don't hurt," and people could sign their name and/or put their handprint on the banner. A fellow student was willing to have their dog put their pawprint on the banner. All CDC and Longwood University guidelines were followed during the event.