During the Honors Retreat, I participated in volunteer work at Heartland Horse Heroes. While volunteering, I helped to clear a path to make a trail. During my first semester at Longwood, I was a part of the Campus Wide committee in Longwood's Honors Student Association. The job of the committee was to spread awareness of HSA, as well as a charity of our choice. We chose Hearing Charities of America, and we passed out flyers so people could donate.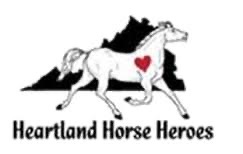 This is the logo of the farm we volunteered at with the Honors Retreat. I plan on volunteering there again now that I will have the transportation necessary to do so.
During my second year at Longwood, I became the Director of Philanthropy for my sorority Alpha Sigma Tau. I have done cleanups for Adopt a Highway and fundraised for the Shelter for Help in Emergency. Along with the rest of Greek Life, I have fundraised for Relay for Life. The picture below shows how much my sorority raised for Relay for Life, surpassing our goal.