Alec Hosterman, an Assistant Professor of Communication Studies, will be giving a public presentation entitled 48 Hours of Chaos: Charlottesville at the Front Lines on Wednesday, September 6, 2017 from 7:00 – 8:30 pm in Wygal Hall auditorium.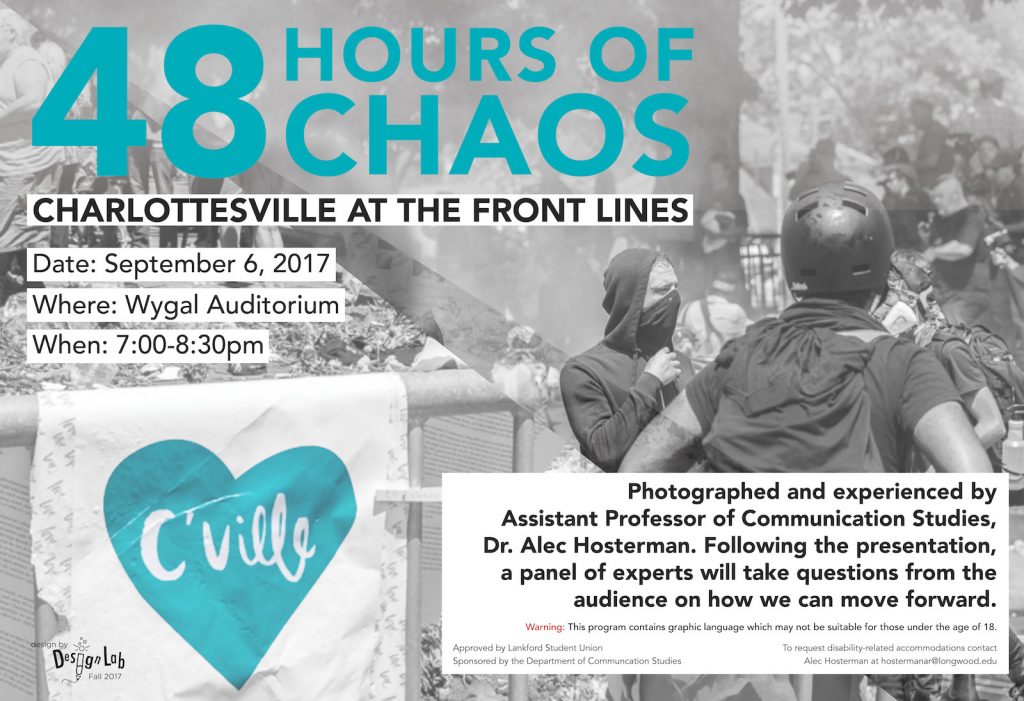 Alec was in Charlottesville to photograph and document the torch rally on Friday, August 11th and the events that unfolded at Emancipation on Saturday, August 12th. His presentation is a chronology of how he saw the events unfolding and is presented through his photography and narrative. Images are of the different white supremacist groups that attended, the counter-protestors, at the aftermath, and the memorial for Heather Heyer.
Provost Joan Neff will be giving the opening remarks for the evening and Naomi Johnson (Communication Studies) will be moderating the program. Following the presentation will be a Q&A session with Alec, Jonathan Page (Citizen Leadership and Social Justice Education), Virginia Beard (Sociology), Dave Magill (English), and Jenny Glass (CAPS). Pam Tracy (Communication Studies/CAFE) will facilitate questions from the audience.
Filed under: Communication Studies & Theatre, Uncategorized | Tagged: Alec Hosterman, Charlottesville, Communication Studies