Posts tagged
Reading Literacy and Learning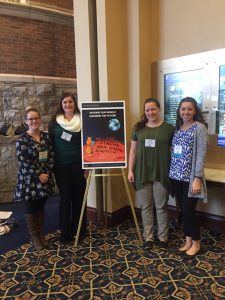 Hello! I had the pleasure of attending the 50th Annual Virginia State Reading Association conference at the Hotel Roanoke and Conference Center on March 17th, 2017. This conference was a first for me, and I can say with sincerity that it was an amazing experience to be surrounded by such knowledgeable and passionate educators in the field of literacy. The keynote speaker, Dr. Steven Layne, enthralled us all with an amazing read-aloud from Sold by Patricia McCormick as well as a great discussion about his discoveries during the process of writing his book In Defense of Read-Aloud. This text is now on my must-buy list because Layne brought together an "army" – as he calls it – of professionals and researchers to prove once-and-for-all, to reluctant administrators and teachers who are not believers, that read-alouds are necessary and advantageous for all students K through 12.
The break-out sessions throughout the afternoon were just as engaging and informative! My favorite session was with Keith Polette, a professor from the University of Texas, who provided teachers with concrete examples to implement direct instruction with grammar in meaningful and authentic contexts. Instead of drilling our students with worksheets, they simply need to learn the 17 basic elements of grammar and be given opportunities to apply them in their own writings. His humorous approach to this concept helped many of us to clarify our own misconceptions and walk away with a fresh outlook on teaching grammar.
Attending this conference has helped me to gain insight and resources to help prepare me for my upcoming first year of teaching!