Posts tagged
Shannon Miller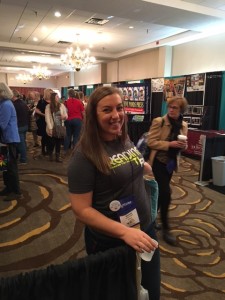 This past weekend I had the pleasure to attend a wonderful conference.  I attended the VAASL conference in Williamsburg, VA.  This was my first time attending the conference and I  was amazed at everything the conference had to offer.  There were so many amazing session titles and descriptions that it was difficult to choose just one!  Each session I attended, I learned something new, innovated and exciting.  This year the keynote speakers, Margaret Willison and Shannon Miller were just amazing.  Hearing them speak gave me encouragement to be able to do great things in the library.  I am not yet a librarian, but I am definitely excited about becoming a librarian in the near future.
One of the take aways from a session I attended, was using the library in math class. I am currently teaching math and it can be difficult to incorporate the library and it can get boring with the every day worksheet.  The session showed me how to incorporate fractions of words to create new words that would form book titles.  I loved this and immediately thought I could do this right now in my class.  So yesterday, Monday 11/23/15, my students were fully engaged in this activity.  I invited my principal into my class to see my new knowledge in action!
I cannot wait to attend VAASL next year!