Posts tagged
ASHA
This was my first time attending an Ame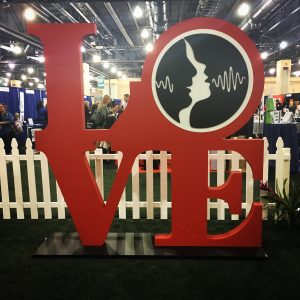 rican Speech-Language-Hearing Association (ASHA) Conference. I have attended the Speech-Language-Hearing Association of Virginia (SHAV) Conference before, but this was definitely a different experience. The first adjective that comes to mind is overwhelming! There were over 16,000 people in attendance. At first, it was difficult to navigate through the Philadelphia Convention Center and the Marriott Hotel, it was crowded everywhere you went (even outside of the convention center), and sometimes you could not get into a session because there were too many people. Luckily, it did not take long for me to learn how to navigate the crowds and understand that I needed to arrive at least 30 minutes before a session to get a seat! Even with it being so overwhelming, I learned a lot of new information and networked with several speech-language pathologists (SLPs) throughout my time at ASHA.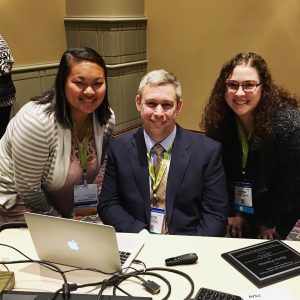 One of the highlights of the conference was meeting and attending a session by Martin Pistorius. In my Augmentative and Alternative Communication (AAC) class, we read his book, Ghost Boy. It was amazing to hear his personal testament about how SLPs impacted his life and provided insight on how I should work with people with complex communication needs. Some of the other sessions I attended were about working with children with Autism who have self-limiting diets, using Applied Behavior Analysis (ABA) in conjunction with speech pathology, treating transgender patients who wish to change their voice, and opening your own private practice. One thing that I really liked about ASHA was the wide variety of topics discussed in the sessions. It was helpful to hear about specialty areas that we do not get to discuss during our classes.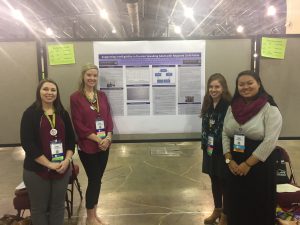 One of the main reasons I attended ASHA was to present a poster. Three of my peers and I presented a case study about an adult client from Kazakstan with a cleft palate. We decided to present this poster because this client represented a rare case. It was difficult for us to find specific research about her needs, and so we wanted to share our clinical decision making process with others. Our hope was to provide information to others who may have a client similar to ours, and also to help students understand the decision making process to help them with any complex clients they may have. During our presentation, we had the opportunity to converse with a few professionals who specialize in craniofacial anomalies. It was great to hear their perspectives on what we did and hear advice about things to consider to improve our research in the future.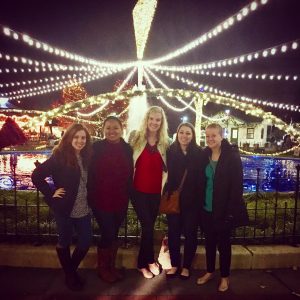 Finally, one of my favorite things about ASHA was being able to explore Philadelphia in the evenings. On the first day, I was able to see the historic side of Philly and I visited the Liberty Bell. It was also great to see the city getting ready for the holidays. Right downtown, where the iconic LOVE sign is, there was a small ice skating rink. While exploring the city, we also came across some Christmas lights on Franklin Square. At night they had an "Electric Light" show. And of course, we asked around to find the best place to eat a Philly cheesesteak. It was fun to attend an out-of-state conference because I learned a lot at the conference during the day, and I got to explore a new city in the evenings.