Posts tagged
Margaret Willison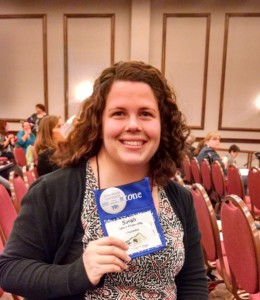 I cannot stand his books!  If you haven't had the pleasure of reading one, here is how THEY ALL go…there is a tragedy, and due to the tragedy, someone falls in love.  Now, you have no reason to ever have to read one his books!  Sparks has written tons of books, they have all been on the New York Times Best Seller's List, and he has sold over 100 million copies.  So clearly, my feelings about his books are not the majority.  People like them.  They buy them.  LOTS of them.
As a graduate student in School Librarianship, I have been recently struggling with how to teach content in the library while not crushing the potential spirit of readers.  With so much emphasis in schools on test scores and data, how do you maintain student's excitement?
Margaret Willison was Thursday's keynote speaker at VAASL and she is funny!  And what I took away from her presentation is that people are going to read what they like.  It may not be what you like or perhaps even millions of people worldwide like, but for them, there is value in what they are reading.  So, instead of promoting certain books, promote the love of reading for there is certainly value in the love of reading.
We all have our things.  Sparks certainly isn't mine.  But I LOVE the Confessions of a Shopaholic series by Sophie Kinsella.  And while the basic plot is the same in that series just like Spark's books, I gain huge value in the pleasure of reading.
Where to find Willison:
https://twitter.com/MrsFridayNext?ref_src=twsrc%5Egoogle%7Ctwcamp%5Eserp%7Ctwgr%5Eauthor
http://tinyletter.com/twobossydames
https://twitter.com/atvpodcast
http://www.npr.org/sections/monkeysee/129472378/pop-culture-happy-hour/