Health & Physical Education
While taking a year off from teaching and returning to Longwood for a masters in adapted physical education, I looked forward to attending this year's state conference. VAHPERD is always on the cutting edge offering many different insights into the different aspects of physical education. By far my favorite session I attended while at VAHPERD was meeting with the Sun Wheelers, a wheelchair basketball team; not only did I learn about wheelchair basketball but I also got to play it! From sessions like "inclusion in action" to "utilizing evidence-based practices to teach motor skills to children with Autism spectrum disorder", I was able to come away with such valuable knowledge that I can't wait to return to my school district and share these new ideas. In addition to sitting in on sessions that have enhanced my understanding of adapted physical education, I had the chance to witness Longwood's undergraduates win the first ever VAHPERD trivial bowl! Overall it was a great weekend and I can't wait to return next year see what's new in the world of physical education.
My profession is lucky enough to have a state conference, VAHPERD, every year. This conference brings PE and Health professionals from far and wide to share their ideas and new stuff with anyone who wants to hear what they got to say. I've attended this conference once before two years ago. In 2012, I traveled with my whole undergrad group, but this year I traveled with my grad program! Although, our group was much smaller we still managed to have a blast! The conference started off with a Longwood Meet and Greet with current students and alumni of our wonderful university. I was able to see two people from my undergrad group who are out in the real world with their teaching jobs. It was great seeing them and hearing about their experiences during their first year of teaching. Later that evening, myself and two other Longwood PHETE people attended a glow in the dark night. We were given the opportunity to play all sorts of games, such as corn hole, kan jam, slam ball, and ladder ball. What made this event even better was that it was in complete darkness and everything was covered in glow sticks. This was a great and fun way to start off the conference weekend. My most memorable experience of this year's conference was a session that I attended that was all about hula hooping. Now, you're probably thinking hula hooping is no big deal or I could do it in my sleep. It was actually quite the opposite. The presenters were doing things with hula hoops that I have never seen before and they showed us how to make hula hooping fun for all ages! The energy during their presentation was infectious; it just made you want to get up, participate, and laugh while doing so. I'm extremely grateful that I had the opportunity to attend VAHPERD this year. I look forward to attending VAHPERD in years to come as a LONGWOOD ALUMNI!!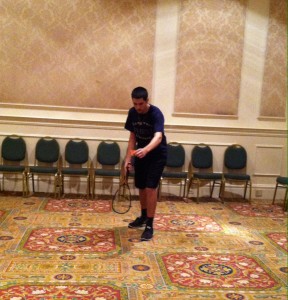 During the VAHPERD Convention I was exposed to so many new possibilities to incorporate in my future classroom. I learned new and exciting games called speedminton, tchoukball, and spikeball. These games allow all students to participate at once in a classroom with few equipment pieces. I know if i thoroughly enjoyed these three activities my students will too. In addition to learning new and exciting activities, I also was able to attend two sessions with the sports physiologist from Duke University who gave me great insight on how to coach. I plan to coach baseball on the high school level along with teaching health and physical education and from this session I learned the importance of how to become an efficient. effective, and respected coach. Lastly, during my weekend at the VAHPERD Convention, I attend a few adaptive physical education sessions that really gave me a hands on perspective of how students perform task in a classroom with certain disabilities. I highly respect all adaptive physical education teachers for what they do and really believe those two sessions will allow me to reach the needs of all students in my classroom by incorporating inclusion into my future classroom.
Joshua Barmoy