Posts tagged
ASHA Convention
Attending the American Speech–Language–Hearing Association (ASHA) national conference in Philadelphia, Pennsylvania proved to be an amazing experience for me that has impacted my future practice as a speech-language pathologist. I presented data from my ongoing research at a poster session. During the session, several attendees came to the poster to provide me with encouragement and advice for my research. To further my knowledge about speech-language pathology, I attended several sessions every day on anatomy, language, feeding and swallowing that will aid me when I graduate next year. I also obtained hands on experience practicing endoscopy with experts. In addition, I had the opportunity to meet some celebrities of my profession, including bestselling author and AAC user Martin Pistorius and Parkinson's Disease voice expert Dr. Lorraine Ramig. The conference was a wonderful opportunity for me to learn information that will aid me as a professional and the experience will stay with me forever.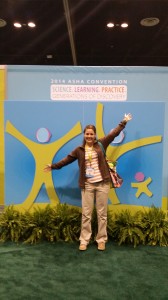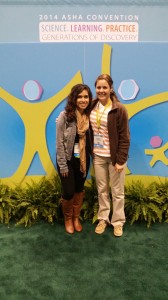 I had the pleasure of attending the annual convention of the American Speech-Language-Hearing Association in Orlando, Florida this fall. I was unsure of exactly what to expect from the convention, but it exceeded any expectations by far. I was able to attend copious oral seminars and technical reports by the most prominent speech-language pathologists in the field. I was able to attend a session on pediatric feeding and swallowing by a woman who is considered to be the expert in that field. That particular session cemented and expanded upon the informationa gained in my graduate coursework in feeding and swallowing disorders here at Longwood. I attended many other sessions some of which pertained to craniofacial anomalies, childhood apraxia of speech, autism, and stuttering disorders. All of the aformentioned sessions enhanced my knowledge of those disorders and better prepared me to work with those populations in my future career.
As a person who is from and will return to the Orlando, Florida area, this opportunity was especially beneficial because I was able to network with many employers. An extensive number of employers from the area held tables within the exhibit hall. I was able to discuss future employment opportunities and preferred applicant qualities with many of them. As I am graduating in May 2015 and have begun thinking of my career following graduation, I have become interested in pursuing a PhD program. A session was held at the convention in which several PhD graduates discussed the application process and requirements for students interested in doctoral programs, which was very helpful. I was honored to be one of the two students representing Longwood at the ASHA Convention and I am eternally grateful for the rewarding experience.