Posts tagged
Keith Polette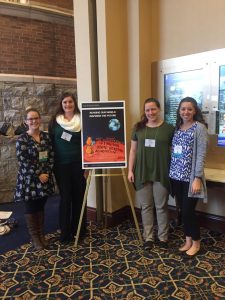 I attended the Virginia State Reading Association's 50th Annual Reading Conference in Roanoke, Virginia. I truly enjoyed every moment of the experience. Being surrounded by that many people who all have an amazing impact on children every day was incredible. The first session that I attended at the conference was entitle In Defense of Read-Aloud by Dr. Steven Layne. This presentation inspired me from the first moment. I hope to teach middle school in the future, so it was important to hear that read-aloud has just as much benefit for these older students as it does for elementary learners. One of the biggest take-aways I had from this presentation was the importance of establishing a hook when reading a book aloud. It is essential to read a higher amount in those first few days until students are begging for you to read; when they reach that point, they are hooked! One of the concurrent sessions I attended was on the topic of grammar with Dr. Keith Polette. This session was a great refresher on a wide variety of grammatical topics such as abstract vs. concrete nouns, the parts of speech, and instructional strategies to utilize when providing this information to students. I have since ordered Dr. Polette's book, Teaching Grammar Through Writing, and plan to incorporate many of these ideas into my classroom. I also attended a session on incorporating technology into the classroom, specifically literature circles. In this session, I learned about the SAMR model of incorporating technology in the classroom. The last session I attended was centered on the Virginia Reader's Choice texts selected for middle and high school readers this year. This was an incredible session to attend because it gave me a great list of texts to start with when recommending books to my students int the future! I truly enjoyed every aspect of this conference and plan to attend next year's as well! I am so thankful for this opportunity that the Graduate Travel Grant has given me.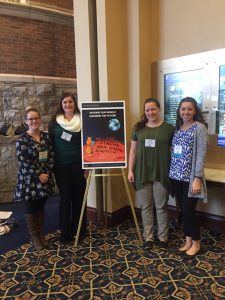 Hello! I had the pleasure of attending the 50th Annual Virginia State Reading Association conference at the Hotel Roanoke and Conference Center on March 17th, 2017. This conference was a first for me, and I can say with sincerity that it was an amazing experience to be surrounded by such knowledgeable and passionate educators in the field of literacy. The keynote speaker, Dr. Steven Layne, enthralled us all with an amazing read-aloud from Sold by Patricia McCormick as well as a great discussion about his discoveries during the process of writing his book In Defense of Read-Aloud. This text is now on my must-buy list because Layne brought together an "army" – as he calls it – of professionals and researchers to prove once-and-for-all, to reluctant administrators and teachers who are not believers, that read-alouds are necessary and advantageous for all students K through 12.
The break-out sessions throughout the afternoon were just as engaging and informative! My favorite session was with Keith Polette, a professor from the University of Texas, who provided teachers with concrete examples to implement direct instruction with grammar in meaningful and authentic contexts. Instead of drilling our students with worksheets, they simply need to learn the 17 basic elements of grammar and be given opportunities to apply them in their own writings. His humorous approach to this concept helped many of us to clarify our own misconceptions and walk away with a fresh outlook on teaching grammar.
Attending this conference has helped me to gain insight and resources to help prepare me for my upcoming first year of teaching!