(Norfolk, VA) Lacy J. Klinger, Assistant Professor of Theatre, and senior BFA Theatre Performance Major Garrett D. Reese will be performing in the Virginia Theatre Association's (www.vtasite.org) staged reading of the musical Bubble Boy. The musical is written by Cinco Paul and Ken Daurio (Despicable Me, The Lorax, The Secret Life of Pets), who also wrote the 2001 major motion picture of the same title and starring Jake Gyllenhaal.
Klinger and Reese were chosen out of 100 video submissions from across the state of Virginia, which included a brief selection of a musical theatre song that showed off their vocal range and comedic acting technique. Klinger is playing the role of the title character's germ-a-phobic, neurotic mother Mrs. Livingston. Reese will be playing the character of Slim, the leader of a biker gang, as well as serving in the ensemble.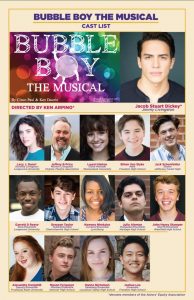 "Slim is very much a 'tough guy' with a very soft heart," Reese says. "He's been burned in the past but he refuses to live with regret, as we learn from his song, appropriately titled 'Regret,'" Reese laughs.
Jimmy Livingston, a boy destined to live his entire life in a plastic bubble lest he be killed by just one germ, will be played by professional Broadway actor Jacob Stuart Dickey (www.jacobstuartdickey.com) who is currently in the ensemble of Disney's Aladdin on Broadway. Dickey also serves as the understudy for the roles of Aladdin and Kassim.
This staged reading, performing on Friday October 26, 2018, is being produced in conjunction with the professional theatre company Wolfbane Productions (www.wolfbane.org), based in Appomattox, VA, and directed by Ken Arpino, the company's Executive Director. The rest of the cast is comprised of high school students and theatre professionals throughout the state of Virginia, as well as VTA's own president, Jeff Price.
"For the last few years, [VTA] has had some pretty awesome people at the conference, but access to our headliners has been somewhat limited," Jeff Price states. The staged reading was brought to life in order to allow those attending the conference to meet the conference's headliners during The President's Reception. "We want as many folks as possible to get an opportunity to hob nob with the amazing artists we bring in."
Not only will the reading provide an opportunity to mingle with headliners, it will allow the performers to showcase their talent to those professionals. "I am most excited for Garrett's opportunity to share his talent with not only industry professionals across the state, but the successful writing team of Paul and Daurio and executive director of Wolfbane, Ken Arpino," Klinger says. "It's a wonderful chance for him to make professional connections just before he graduates. He is an exceptionally talented actor and deserves all the best after leaving Longwood University."
Reese is honored to represent Longwood Theatre at the conference in front of potential future Longwood students. "I am truly grateful for the opportunity," Reese says. "I am very happy I was chosen and I cannot wait to meet everyone at the conference, to make these connections, and to showcase all the training I've received here at Longwood."
Filed under: Communication Studies & Theatre