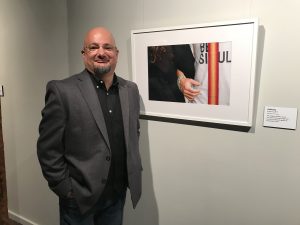 On Friday, August 3rd, Dr. Alec Hosterman's photo documentary exhibit There's Just Us opened at the Virginia Holocaust Museum in Richmond, VA. The exhibit documents his experiences at the 2017 Unite the Right rally held in Charlottesville, VA. The museum kicked off the exhibit on Thursday, August 2 with a special invitation artist's talk given by Alec.
Alec was also interviewed by WCVE, Richmond's local NPR affiliate, about his experiences in Charlottesville and the photos in the exhibit at the Virginia Holocaust Museum. Click here to read/listen to that interview.
There's Just Us runs from August 3, 2018 through October 28, 2018. Click here for more information on the exhibit and the Virginia Holocaust Museum.
Filed under: Uncategorized