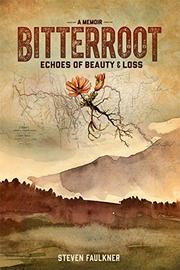 Kirkus Reviews, one of the premier American book review magazines, has awarded a starred review to Steve Faulkner's forthcoming memoir Bitterroot.
From KR: A well-recounted father-and-son journey in the Missouri River country.
That land is definitively Lewis and Clark territory, and that duo figures prominently, though mostly in the mountainous region of the title, a place that Faulkner (Waterwalk: A Passage of Ghosts, 2007)—a Kansas flatlander by way of Virginia—knows well. More, it was the haunt of Pierre Jean De Smet, a Jesuit priest who in 1840 and 1841 traveled the Oregon Trail and in the bargain helped "popularize that arduous journey west." De Smet makes a good tutelary spirit for the journey, a wise intermediary among the worlds of Europe and Native America, a binary that still exists out on the land. Mixing in accounts by a Nez Perce warrior named White Thunder, Faulkner ventures a "three-legged understanding of the northern half of what was then called the Far West." To make life interesting, he and his 18-year-old son Alex traveled by a variety of conveyances, including canoes, bicycles, and their own two feet, meeting all sorts of people, from wary sheriffs to itinerant Indians to truckers and scholars. Alex's presence complicates the narrative, but in good ways, for the father-son business between them is emphatically less fraught than what readers encounter in the kindred spirit of Zen and the Art of Motorcycle Maintenance. It's a pleasure to find the drama in hailstorms and the bawls of grizzly bears instead. Faulkner tells an unadorned, unaffected story, with an occasional tendency to overquote from historical sources more than balanced by his strong descriptions of people and places—e.g., "We are on a high bluff of whitish-grey, speckled limestone, much of it silted over with a thin soil and fringed in blowing prairie grasses." Among the many high points are a sympathetic reimagining of Little Big Horn and a hell-for-leather bicycle ride down an impossibly steep mountain, "down and down, swerving, leaning, braking, vast treescapes of fir and spruce greeting us at every turn.
A fine travelogue worthy of shelving next to Jonathan Raban and William Least Heat-Moon.
Filed under: English & Modern Languages