Microbacterium paraoxydans is a small, gram-positive, coryneform rod that grows aerobically at 20, 37, and 40 degrees Celsius. It was first isolated from the fish Nile tilapia in Mexico.
References: Alonso-Echanove, J., S. S. Shah, A. J. Valenti, S. N. Dirrigl, L. A. Carson, M. J. Arduino, and W. R. Jarvis. 2001. Nosocomial outbreak of Microbacterium species bacteremia among cancer patients. J. Infect. Dis. 184:754-760.  [PubMed]
Date collected: February 9, 2017
Methods for isolation and identification:
The top surface of the water of Buffalo Creek were collected in a 50 mL collection tube (Figure 1). The sample was taken back for serial dilutions, pipetting, and incubated at room temperature for a week.
A yellow colony (Figure 2) was selected for the 16s rRNA gene sequencing by PCR amplification.
The PCR product was digested and sequenced to be able to identify the species of the bacteria.
Results:
Mspl digestion: The amplification of the PCR production was at 1,500 bp. When digested, fragments at 700 bp, 450 bp, and 200 bp were seen.
Figure 1: Site of Collection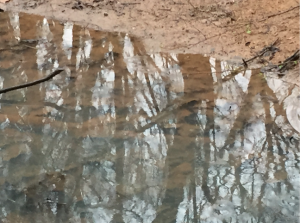 Figure 2: Selected Colony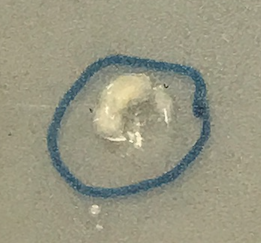 Figure 3: Results of PCR amplification and MSPL digestion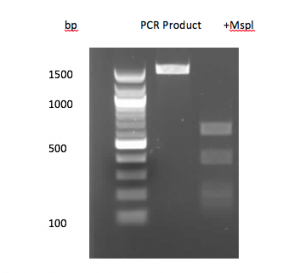 Sequence Analysis: The sequenced PCR product generated 775 bases of high-quality reads that were helped to use to identify the genus and species of the colony. The NCBI BLAST showed 99% identity with bases 109-883 of the 16s rRNA gene.
Figure 4: NCBI BLAST Analysis of colony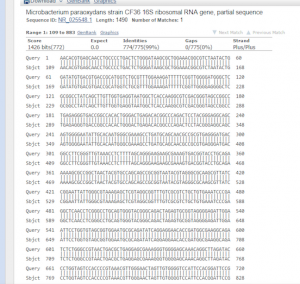 Contributed by: Zack C Long and Rex L Liggon, Bio 250 Spring 2017, Group 11