Janthinobacterium lividum is a rod-shaped, Gram-negative, motile, aerobic bacterium, commonly isolated from of soil and water of cold regions. Janthinobacterium lividum colonizes the skin of some amphibians and confers protection against fungal pathogens.
Citation:

Valdes, N., Soto, P., Cottet, L., Alarcon, P., Gonzalez, A., Castillo, A., … Tello, M. (2015). Draft genome sequence of Janthinobacterium lividum strain MTR reveals its mechanism of capnophilic behavior. Standards in Genomic Sciences, 10, 110. doi: 10.1186/s40793-015-0104-z
Date Collected: February 8, 2017
Methods for Isolation & Identification:
Collection and Sampling of Environmental Samples at Environmental Education Center

For each collection site, we labeled 3 nutrient agar plates as follows: "direct count," "1:10," & "1:100"
To plate these samples, we used the serial dilution technique

Analyzing Data

After 7 days, we collected the following data for each plate: number of colonies, color, size, shape, texture, form, elevation, and margin.

Genomic DNA Isolation/Extraction

Genomic DNA was extracted from two colonies to identify the bacterial species.

Polymerase Chain Reaction (PCR)

The 16s rDNA sequence of our own two unknown bacteria was amplified.

Restriction Enzyme Digestion & Gel Electrophoresis

The purpose of this step was to cleave/ligate a functional piece of DNA predictably and precisely (Restriction Enzyme Digestion).
After cleavage, DNA fragments was separated using agarose gel electrophoresis.
These steps will result in the DNA sequencing step.

DNA Sequencing Analysis/Identification

The purpose of this step was to identify our prokaryotes based on the sequence of the 16s rDNA. Also, analyzing our DNA sequences and identifying what prokaryote we likely identified.
SnapGene viewer to analyze our sequence, used a BLAST to identify the prokaryote, and checked the MspI digestion sites for our sequence using NEB cutter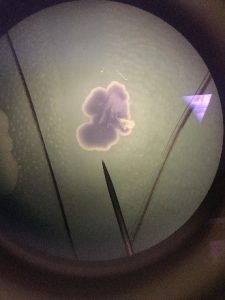 Results:
The sequenced PCR product for the 16s rRNA gene generated 857 bases of high-quality reads that were used to identify the genus and species of the bacteria colonies. This allowed us to separate and analyze the DNA and their fragments, based on their size and charge. The Gel Electrophoresis image below shows the nucleic acid molecules separated by bands. The shorter molecules moved faster and traveled farther than the longer ones because the shorter molecules traveled through the pores of the gel. As you can clearly see in the image below bands lining up, which represents a protein that compromises that band is highly abundant.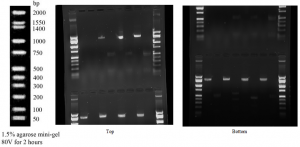 The digested gels are 3, 5, 7, and 9 with the top being Buffalo Creek tree at 5m, tree at 10m, and the two water samples.
Sequence Analysis:
The sequenced PCR product generated 865 bases of high-quality reads that were used to identify the genus and species of the colony. The chromatogram of the sequence is available as a pdf (BCW1) . NCBI BLAST analysis revealed 99% identity with bases 28-892 of the 16s rRNA gene of Janthinobacterium lividium.
Janthinobacterium lividum strain DSM 1522 16S ribosomal RNA gene, partial sequence
Alignment statistics for match #1

| Score | Expect | Identities | Gaps | Strand |
| --- | --- | --- | --- | --- |
| 1585 bits(858) | 0.0 | 863/865(99%) | 1/865(0%) | Plus/Plus |
Query  1    TGC-AGTCGAACGGCAGCACGGAGCTTGCTCTGGTGGCGAGTGGCGAACGGGTGAGTAAT  59
            ||| ||||||||||||||||||||||||||||||||||||||||||||||||||||||||
Sbjct  28   TGCAAGTCGAACGGCAGCACGGAGCTTGCTCTGGTGGCGAGTGGCGAACGGGTGAGTAAT  87

Query  60   ATATCGGAACGTACCCTGGAGTGGGGGATAACGTAGCGAAAGTTACGCTAATACCGCATA  119
            ||||||||||||||||| ||||||||||||||||||||||||||||||||||||||||||
Sbjct  88   ATATCGGAACGTACCCTAGAGTGGGGGATAACGTAGCGAAAGTTACGCTAATACCGCATA  147

Query  120  CGATCTAAGGATGAAAGTGGGGGATCGCAAGACCTCATGCTCGTGGAGCGGCCGATATCT  179
            ||||||||||||||||||||||||||||||||||||||||||||||||||||||||||||
Sbjct  148  CGATCTAAGGATGAAAGTGGGGGATCGCAAGACCTCATGCTCGTGGAGCGGCCGATATCT  207

Query  180  GATTAGCTAGTTGGTAGGGTAAAAGCCTACCAAGGCATCGATCAGTAGCTGGTCTGAGAG  239
            ||||||||||||||||||||||||||||||||||||||||||||||||||||||||||||
Sbjct  208  GATTAGCTAGTTGGTAGGGTAAAAGCCTACCAAGGCATCGATCAGTAGCTGGTCTGAGAG  267

Query  240  GACGACCAGCCACACTGGAACTGAGACACGGTCCAGACTCCTACGGGAGGCAGCAGTGGG  299
            ||||||||||||||||||||||||||||||||||||||||||||||||||||||||||||
Sbjct  268  GACGACCAGCCACACTGGAACTGAGACACGGTCCAGACTCCTACGGGAGGCAGCAGTGGG  327

Query  300  GAATTTTGGACAATGGGCGAAAGCCTGATCCAGCAATGCCGCGTGAGTGAAGAAGGCCTT  359
            ||||||||||||||||||||||||||||||||||||||||||||||||||||||||||||
Sbjct  328  GAATTTTGGACAATGGGCGAAAGCCTGATCCAGCAATGCCGCGTGAGTGAAGAAGGCCTT  387

Query  360  CGGGTTGTAAAGCTCTTTTGTCAGGGAAGAAACGGTGAGAGCTAATATCTCTTGCTAATG  419
            ||||||||||||||||||||||||||||||||||||||||||||||||||||||||||||
Sbjct  388  CGGGTTGTAAAGCTCTTTTGTCAGGGAAGAAACGGTGAGAGCTAATATCTCTTGCTAATG  447

Query  420  ACGGTACCTGAAGAATAAGCACCGGCTAACTACGTGCCAGCAGCCGCGGTAATACGTAGG  479
            ||||||||||||||||||||||||||||||||||||||||||||||||||||||||||||
Sbjct  448  ACGGTACCTGAAGAATAAGCACCGGCTAACTACGTGCCAGCAGCCGCGGTAATACGTAGG  507

Query  480  GTGCAAGCGTTAATCGGAATTACTGGGCGTAAAGCGTGCGCAGGCGGTTTTGTAAGTCTG  539
            ||||||||||||||||||||||||||||||||||||||||||||||||||||||||||||
Sbjct  508  GTGCAAGCGTTAATCGGAATTACTGGGCGTAAAGCGTGCGCAGGCGGTTTTGTAAGTCTG  567

Query  540  ATGTGAAATCCCCGGGCTCAACCTGGGAATTGCATTGGAGACTGCAAGGCTAGAATCTGG  599
            ||||||||||||||||||||||||||||||||||||||||||||||||||||||||||||
Sbjct  568  ATGTGAAATCCCCGGGCTCAACCTGGGAATTGCATTGGAGACTGCAAGGCTAGAATCTGG  627

Query  600  CAGAGGGGGGTAGAATTCCACGTGTAGCAGTGAAATGCGTAGATATGTGGAGGAACACCG  659
            ||||||||||||||||||||||||||||||||||||||||||||||||||||||||||||
Sbjct  628  CAGAGGGGGGTAGAATTCCACGTGTAGCAGTGAAATGCGTAGATATGTGGAGGAACACCG  687

Query  660  ATGGCGAAGGCAGCCCCCTGGGTCAAGATTGACGCTCATGCACGAAAGCGTGGGGAGCAA  719
            ||||||||||||||||||||||||||||||||||||||||||||||||||||||||||||
Sbjct  688  ATGGCGAAGGCAGCCCCCTGGGTCAAGATTGACGCTCATGCACGAAAGCGTGGGGAGCAA  747

Query  720  ACAGGATTAGATACCCTGGTAGTCCACGCCCTAAACGATGTCTACTAGTTGTCGGGTCTT  779
            ||||||||||||||||||||||||||||||||||||||||||||||||||||||||||||
Sbjct  748  ACAGGATTAGATACCCTGGTAGTCCACGCCCTAAACGATGTCTACTAGTTGTCGGGTCTT  807

Query  780  AATTGACTTGGTAACGCAGCTAACGCGTGAAGTAGACCGCCTGGGGAGTACGGTCGCAAG  839
            ||||||||||||||||||||||||||||||||||||||||||||||||||||||||||||
Sbjct  808  AATTGACTTGGTAACGCAGCTAACGCGTGAAGTAGACCGCCTGGGGAGTACGGTCGCAAG  867

Query  840  ATTAAAACTCAAAGGAATTGACGGG  864
            |||||||||||||||||||||||||
Sbjct  868  ATTAAAACTCAAAGGAATTGACGGG  892



Contributed by: Matthew W. Bowman & Carly Carter, BIOL 250 – Spring 2017, Longwood University