Janthinobacterium lividum is an aerobic, gram-negative, soil-dwelling bacterium . It is a dark purple color and is often found on the skin of amphibians especially frogs (Rebollar).
References:
Rebollar, E. A., Simonetti, S. J., Shoemaker, W. R., & Harris, R. N. (2016, April 4). Direct and Indirect Horizontal Transmission of the Antifungal Probiotic Bacterium Janthinobacterium lividum on Green Frog (Lithobates clamitans) Tadpoles. Retrieved April 5, 2017
Date collected: February 8, 2017
Methods for isolation and identification:
Water from the top of Buffalo Creek was collected (Figure 1)
The sample was placed onto an augar plate and kept at room temperature
Results were taken at 24 hours and 48 hours
A purple colony was chosen for 16s RNA sequencing by PCR amplification (Figure 2)
The enzyme MSP1 was used to help identify the genus and species.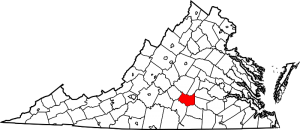 Figure 1. Collection Site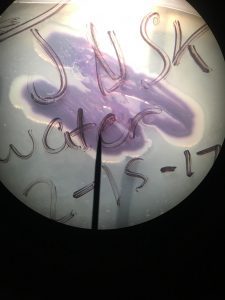 Figure 2. Colony collected
Results
A 1550 bp product was amplified by the PCR (Figure 3).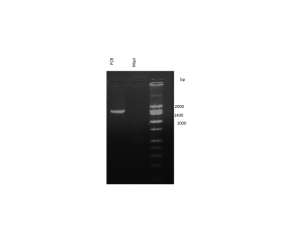 NCBI BLAST analysis revealed 99% match of the 16s rRNA gene of Janthinobacterium lividum (Figure 4).
Janthinobacterium lividum strain DSM 1522 16S ribosomal RNA gene, partial sequence
Alignment statistics for match #1
Score
Expect
Identities
Gaps
Strand
Frame
1777 bits(962)
0.0

()

964/965(99%)
0/965(0%)
Plus/Plus
Query  26   TCGAACGGCAGCACGGAGCTTGCTCTGGTGGCGAGTGGCGAACGGGTGAGTAATATATCG  85
            ||||||||||||||||||||||||||||||||||||||||||||||||||||||||||||
Sbjct  34   TCGAACGGCAGCACGGAGCTTGCTCTGGTGGCGAGTGGCGAACGGGTGAGTAATATATCG  93

Query  86   GAACGTACCCTGGAGTGGGGGATAACGTAGCGAAAGTTACGCTAATACCGCATACGATCT  145
            ||||||||||| ||||||||||||||||||||||||||||||||||||||||||||||||
Sbjct  94   GAACGTACCCTAGAGTGGGGGATAACGTAGCGAAAGTTACGCTAATACCGCATACGATCT  153

Query  146  AAGGATGAAAGTGGGGGATCGCAAGACCTCATGCTCGTGGAGCGGCCGATATCTGATTAG  205
            ||||||||||||||||||||||||||||||||||||||||||||||||||||||||||||
Sbjct  154  AAGGATGAAAGTGGGGGATCGCAAGACCTCATGCTCGTGGAGCGGCCGATATCTGATTAG  213

Query  206  CTAGTTGGTAGGGTAAAAGCCTACCAAGGCATCGATCAGTAGCTGGTCTGAGAGGACGAC  265
            ||||||||||||||||||||||||||||||||||||||||||||||||||||||||||||
Sbjct  214  CTAGTTGGTAGGGTAAAAGCCTACCAAGGCATCGATCAGTAGCTGGTCTGAGAGGACGAC  273

Query  266  CAGCCACACTGGAACTGAGACACGGTCCAGACTCCTACGGGAGGCAGCAGTGGGGAATTT  325
            ||||||||||||||||||||||||||||||||||||||||||||||||||||||||||||
Sbjct  274  CAGCCACACTGGAACTGAGACACGGTCCAGACTCCTACGGGAGGCAGCAGTGGGGAATTT  333

Query  326  TGGACAATGGGCGAAAGCCTGATCCAGCAATGCCGCGTGAGTGAAGAAGGCCTTCGGGTT  385
            ||||||||||||||||||||||||||||||||||||||||||||||||||||||||||||
Sbjct  334  TGGACAATGGGCGAAAGCCTGATCCAGCAATGCCGCGTGAGTGAAGAAGGCCTTCGGGTT  393

Query  386  GTAAAGCTCTTTTGTCAGGGAAGAAACGGTGAGAGCTAATATCTCTTGCTAATGACGGTA  445
            ||||||||||||||||||||||||||||||||||||||||||||||||||||||||||||
Sbjct  394  GTAAAGCTCTTTTGTCAGGGAAGAAACGGTGAGAGCTAATATCTCTTGCTAATGACGGTA  453

Query  446  CCTGAAGAATAAGCACCGGCTAACTACGTGCCAGCAGCCGCGGTAATACGTAGGGTGCAA  505
            ||||||||||||||||||||||||||||||||||||||||||||||||||||||||||||
Sbjct  454  CCTGAAGAATAAGCACCGGCTAACTACGTGCCAGCAGCCGCGGTAATACGTAGGGTGCAA  513

Query  506  GCGTTAATCGGAATTACTGGGCGTAAAGCGTGCGCAGGCGGTTTTGTAAGTCTGATGTGA  565
            ||||||||||||||||||||||||||||||||||||||||||||||||||||||||||||
Sbjct  514  GCGTTAATCGGAATTACTGGGCGTAAAGCGTGCGCAGGCGGTTTTGTAAGTCTGATGTGA  573

Query  566  AATCCCCGGGCTCAACCTGGGAATTGCATTGGAGACTGCAAGGCTAGAATCTGGCAGAGG  625
            ||||||||||||||||||||||||||||||||||||||||||||||||||||||||||||
Sbjct  574  AATCCCCGGGCTCAACCTGGGAATTGCATTGGAGACTGCAAGGCTAGAATCTGGCAGAGG  633

Query  626  GGGGTAGAATTCCACGTGTAGCAGTGAAATGCGTAGATATGTGGAGGAACACCGATGGCG  685
            ||||||||||||||||||||||||||||||||||||||||||||||||||||||||||||
Sbjct  634  GGGGTAGAATTCCACGTGTAGCAGTGAAATGCGTAGATATGTGGAGGAACACCGATGGCG  693

Query  686  AAGGCAGCCCCCTGGGTCAAGATTGACGCTCATGCACGAAAGCGTGGGGAGCAAACAGGA  745
            ||||||||||||||||||||||||||||||||||||||||||||||||||||||||||||
Sbjct  694  AAGGCAGCCCCCTGGGTCAAGATTGACGCTCATGCACGAAAGCGTGGGGAGCAAACAGGA  753

Query  746  TTAGATACCCTGGTAGTCCACGCCCTAAACGATGTCTACTAGTTGTCGGGTCTTAATTGA  805
            ||||||||||||||||||||||||||||||||||||||||||||||||||||||||||||
Sbjct  754  TTAGATACCCTGGTAGTCCACGCCCTAAACGATGTCTACTAGTTGTCGGGTCTTAATTGA  813

Query  806  CTTGGTAACGCAGCTAACGCGTGAAGTAGACCGCCTGGGGAGTACGGTCGCAAGATTAAA  865
            ||||||||||||||||||||||||||||||||||||||||||||||||||||||||||||
Sbjct  814  CTTGGTAACGCAGCTAACGCGTGAAGTAGACCGCCTGGGGAGTACGGTCGCAAGATTAAA  873

Query  866  ACTCAAAGGAATTGACGGGGACCCGCACAAGCGGTGGATGATGTGGATTAATTCGATGCA  925
            ||||||||||||||||||||||||||||||||||||||||||||||||||||||||||||
Sbjct  874  ACTCAAAGGAATTGACGGGGACCCGCACAAGCGGTGGATGATGTGGATTAATTCGATGCA  933

Query  926  ACGCGAAAAACCTTACCTACCCTTGACATGGCTGGAATCCCCGAGAGATTGGGGAGTGCT  985
            ||||||||||||||||||||||||||||||||||||||||||||||||||||||||||||
Sbjct  934  ACGCGAAAAACCTTACCTACCCTTGACATGGCTGGAATCCCCGAGAGATTGGGGAGTGCT  993

Query  986  CGAAA  990
            |||||
Sbjct  994  CGAAA  998
Figure 4. NCBI BLAST

Contributed By:
Taylor Johnson and Sarah Kamen, BIOL 250 Spring 2017