Pseudomonas trivialis is a fluorescent, Gram-negative bacterium isolated from the phyllosphere of grasses. This bacterium has been isolated from the rhizosphere of Hippophae rhamnoides growing in the Lahaul-Spiti district, India.
Citation:
Mejri D, Gamalero, E, Souissi T. 2012. Formulation development of the deleterious rhizobacterium Pseudomonas trivialis  X33d for biocontrol of brome (Bromus diandrus) in durum wheat. Journal of Applied Microbiology. 114:2019-228.
Date Collected: February 8, 2017
Methods for Isolation & Identification:
Collection and Sampling of Environmental Samples at Environmental Education Center

For each collection site, we labeled 3 nutrient agar plates as follows: "direct count," "1:10," & "1:100"
To plate these samples, we used the serial dilution technique

Analyzing Data

After 7 days, we collected the following data for each plate: number of colonies, color, size, shape, texture, form, elevation, and margin.

Genomic DNA Isolation/Extraction

Genomic DNA was extracted from two colonies to identify the bacterial species.

Polymerase Chain Reaction (PCR)

The 16s rDNA sequence of our own two unknown bacteria was amplified.

Restriction Enzyme Digestion & Gel Electrophoresis

The purpose of this step was to cleave/ligate a functional piece of DNA predictably and precisely (Restriction Enzyme Digestion).
After cleavage, DNA fragments was separated using agarose gel electrophoresis.
These steps will result in the DNA sequencing step.

DNA Sequencing Analysis/Identification

The purpose of this step was to identify our prokaryotes based on the sequence of the 16s rDNA. Also, analyzing our DNA sequences and identifying what prokaryote we likely identified.
SnapGene viewer to analyze our sequence, used a BLAST to identify the prokaryote, and checked the MspI digestion sites for our sequence using NEB cutter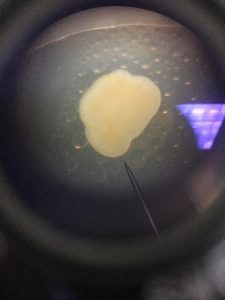 Results:
The sequenced PCR product for the 16s rRNA gene generated 857 bases of high-quality reads that were used to identify the genus and species of the bacteria colonies. This allowed us to separate and analyze the DNA and their fragments, based on their size and charge. The Gel Electrophoresis image below shows the nucleic acid molecules separated by bands. The shorter molecules moved faster and traveled farther than the longer ones because the shorter molecules traveled through the pores of the gel. As you can clearly see in the image below bands lining up, which represents a protein that compromises that band is highly abundant.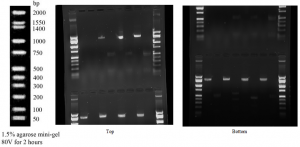 The digested gels are 3, 5, 7, and 9 with the top being Buffalo Creek tree at 5m, tree at 10m, and the two water samples.
Sequence Analysis:
The sequenced PCR product generated 865 bases of high-quality reads that were used to identify the genus and species of the colony. The chromatogram of the sequence is available as a pdf (BCW2) . NCBI BLAST analysis revealed 99% identity with bases 29-988 of the 16s rRNA gene of Pseudomonas trivialis.
Pseudomonas trivialis strain P 513/19 16S ribosomal RNA gene, partial sequence
Alignment statistics for match #1

| Score | Expect | Identities | Gaps | Strand |
| --- | --- | --- | --- | --- |
| 1735 bits(939) | 0.0 | 954/961(99%) | 1/961(0%) | Plus/Plus |
Query  1    TGCCAGTCGAGCGGTAGAGAGGAGCTTGCTTCTCTTGAGAGCGGCGGACGGGTGAGTAAT  60
            ||| ||||||||||||||||| ||||||||||||||||||||||||||||||||||||||
Sbjct  29   TGCAAGTCGAGCGGTAGAGAGAAGCTTGCTTCTCTTGAGAGCGGCGGACGGGTGAGTAAT  88

Query  61   GCCTAGGAATCTGCCTGGTAGTGGGGGATAACGTTCGGAAACGGACGCTAATACCGCATA  120
            ||||||||||||||||||||||||||||||||||||||||||||||||||||||||||||
Sbjct  89   GCCTAGGAATCTGCCTGGTAGTGGGGGATAACGTTCGGAAACGGACGCTAATACCGCATA  148

Query  121  CGTCCTACGGGAGAAAGCAGGGGACCTTCGGGCCTTGCGCTATCAGATGAGCCTAGGTCG  180
            ||||||||||||||||||||||||||||||||||||||||||||||||||||||||||||
Sbjct  149  CGTCCTACGGGAGAAAGCAGGGGACCTTCGGGCCTTGCGCTATCAGATGAGCCTAGGTCG  208

Query  181  GATTAGCTAGTTGGTGAGGTAATGGCTCACCAAGGCGACGATCCGTAACTGGTCTGAGAG  240
            |||||||||||||||| |||||||||||||||||||||||||||||||||||||||||||
Sbjct  209  GATTAGCTAGTTGGTGGGGTAATGGCTCACCAAGGCGACGATCCGTAACTGGTCTGAGAG  268

Query  241  GATGATCAGTCACACTGGAACTGAGACACGGTCCAGACTCCTACGGGAGGCAGCAGTGGG  300
            ||||||||||||||||||||||||||||||||||||||||||||||||||||||||||||
Sbjct  269  GATGATCAGTCACACTGGAACTGAGACACGGTCCAGACTCCTACGGGAGGCAGCAGTGGG  328

Query  301  GAATATTGGACAATGGGCGAAAGCCTGATCCAGCCATGCCGCGTGTGTGAAGAAGGTCTT  360
            ||||||||||||||||||||||||||||||||||||||||||||||||||||||||||||
Sbjct  329  GAATATTGGACAATGGGCGAAAGCCTGATCCAGCCATGCCGCGTGTGTGAAGAAGGTCTT  388

Query  361  CGGATTGTAAAGCACTTTAAGTTGGGAGGAAGGGCAGTTACCTAATACGTGATTGTTTTG  420
            ||||||||||||||||||||||||||||||||||||||||||||||||||||||||||||
Sbjct  389  CGGATTGTAAAGCACTTTAAGTTGGGAGGAAGGGCAGTTACCTAATACGTGATTGTTTTG  448

Query  421  ACGTTACCGACAGAATAAGCACCGGCTAACTCTGTGCCAGCAGCCGCGGTAATACAGAGG  480
            ||||||||||||||||||||||||||||||||||||||||||||||||||||||||||||
Sbjct  449  ACGTTACCGACAGAATAAGCACCGGCTAACTCTGTGCCAGCAGCCGCGGTAATACAGAGG  508

Query  481  GTGCAAGCGTTAATCGGAATTACTGGGCGTAAAGCGCGCGTAGGTGGTTTGTTAAGTTGG  540
            ||||||||||||||||||||||||||||||||||||||||||||||||||||||||||||
Sbjct  509  GTGCAAGCGTTAATCGGAATTACTGGGCGTAAAGCGCGCGTAGGTGGTTTGTTAAGTTGG  568

Query  541  ATGTGAAATCCCCGGGCTCAACCTGGGAACTGCATTCAAAACTGACTGACTAGAGTATGG  600
            ||||||||||||||||||||||||||||||||||||||||||||||||||||||||||||
Sbjct  569  ATGTGAAATCCCCGGGCTCAACCTGGGAACTGCATTCAAAACTGACTGACTAGAGTATGG  628

Query  601  TAGAGGGTGGTGGAATTTCCTGTGTAGCGGTGAAATGCGTAGATATAGGAAGGAACACCA  660
            ||||||||||||||||||||||||||||||||||||||||||||||||||||||||||||
Sbjct  629  TAGAGGGTGGTGGAATTTCCTGTGTAGCGGTGAAATGCGTAGATATAGGAAGGAACACCA  688

Query  661  GTGGCGAAGGCGACCACCTGGACTAATACTGACACTGAGGTGCGAAAGCGTGGGGAGCAA  720
            ||||||||||||||||||||||||||||||||||||||||||||||||||||||||||||
Sbjct  689  GTGGCGAAGGCGACCACCTGGACTAATACTGACACTGAGGTGCGAAAGCGTGGGGAGCAA  748

Query  721  ACAGGATTAGATACCCTGGTAGTCCACGCCGTAAACGATGTCAACTAGCCGTTGGAAGCC  780
            ||||||||||||||||||||||||||||||||||||||||||||||||||||||||||||
Sbjct  749  ACAGGATTAGATACCCTGGTAGTCCACGCCGTAAACGATGTCAACTAGCCGTTGGAAGCC  808

Query  781  TTGAGCTTTTAGTGGCGCAGCTAACGCATTAAGTTGACCGCCTGGGGAGTACGGCCGCAA  840
            ||||||||||||||||||||||||||||||||||||||||||||||||||||||||||||
Sbjct  809  TTGAGCTTTTAGTGGCGCAGCTAACGCATTAAGTTGACCGCCTGGGGAGTACGGCCGCAA  868

Query  841  GGTTAAAACTCAAATGAATTGACGGGGGCCCGCACAAGCGGTGGAGCATGTGGTTTAATT  900
            ||||||||||||||||||||||||||||||||||||||||||||||||||||||||||||
Sbjct  869  GGTTAAAACTCAAATGAATTGACGGGGGCCCGCACAAGCGGTGGAGCATGTGGTTTAATT  928

Query  901  CGAAGCAACGCGAAAGAACCTTACCAGGGCTTTGCATCCAATGAACTTTCTAGAGATAGA  960
            |||||||||||| ||||||||||||||| |||  ||||||||||||||||||||||||||
Sbjct  929  CGAAGCAACGCG-AAGAACCTTACCAGGCCTTGACATCCAATGAACTTTCTAGAGATAGA  987

Query  961  T  961
            |
Sbjct  988  T  988


Contributed by: Matthew W. Bowman & Carly Carter, BIOL 250 – Spring 2017, Longwood University