Bacillus pumilus is a gram-positive motile purple pigmented bacteria that has been found from penaeid shrimp that is resistant to marine pathogens.
References:
 J E Hill, J C F Baiano, A C Barnes, Isolation of a novel strain of Bacillus pumilus from penaeid shrimp that is inhibitory against marine pathogens; Journal of Fish Diseases, 2009, Vol 32:1007-1016
Date Collected: February 9, 2017
Methods for Isolation and Identification:
A soil sample was collected 11.1 inches into Buffalo Creek (Figure 1).  A nutrient broth was added to the sample and it was spread onto an LB Agar using a sterile hockey stick. The agar was incubated at 30 degrees Celsius.
A small purple colony (Figure 2) was selected for 16S rRNA gene sequencing by PCR amplification.

The PCR product was digested and sequenced in order to identify the bacteria.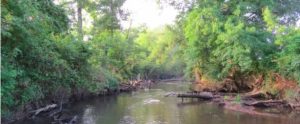 Figure 1. Collection site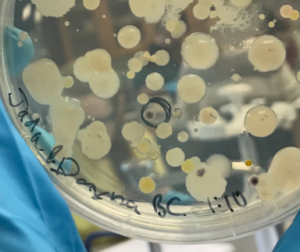 Figure 2. Selected colony
Results:
MspI digestion (Figure 3) : The amplification of our PCR product was about 1500 bp long. Upon digestion with MspI, about 3 bands appeared at about 500 bp, 350 bp, and 200 bp were identified.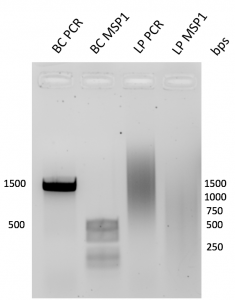 Figure 3. Gel electrophoresis of PCR amplification and MspI digestion
Sequence Analysis (Figure 4): The PCR product generated 1167 bases of high quality reads. NCBI Blast analysis revealed that 98% identify with the bacteria Bacillus pumilus.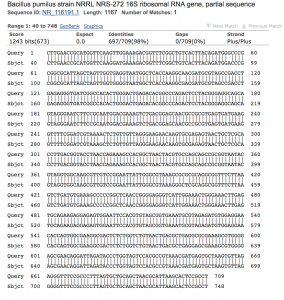 Figure 4. NCBI Blast analysis of colony 13A
mkn7c Contributed by: Dayna Rouse and Jada Russell, BIOL 250 Spring 2017, Group 13