Posts tagged
VSSA2016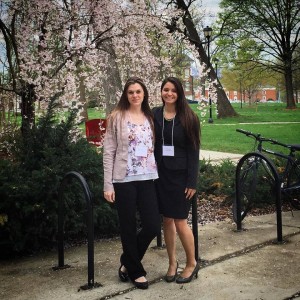 My experience at VSSA was extremely challenging for me. This was the very first conference I have ever attended where I presented my research to an audience. I have been to a few conferences in the past and presented during the poster sessions, but standing in the front of a room full of scholars and professionals was new (and scary) for me. Going to VSSA was a great opportunity and I am so glad that I pushed through and presented my research even though I was nervous. I highly recommend VSSA as a first presentation conference for young scholars. The people were extremely friendly and you truly feel support from everyone there.

On April 2, 2016, I attended the 89th Annual Meeting of the Virginia Social Science Association (VSSA) at Lynchburg College. The mission of the organization is: "Bringing together all groups related to the social science disciplines of Anthropology, Business, Criminal Justice, Economics, Geography, History, International Relations, Political Science, Psychology, and Sociology." With an undergraduate in Political Science and Homeland Security, and an aspiring Masters Degree in Sociology/Social Policy/Criminal Justice, this at first glance seemed to be the perfect conference to first attend—and I was right! It WAS! I fully enjoyed attending the VSSA Conference because there were faculty and students presenting and moderating from all over Virginia!
I met many new people, including my moderator (who was from The University of Virginia), a professor from Norfolk State University,  and another student from Lynchburg whose research topic resembled mine in that we both utilized Strain Theory as a basis for our thesis. This was the first time I ever had the chance to meet with others in my field outside of my department at Longwood, and it was refreshing! Being that my undergraduate degree was in a different field, some of the terminology for me is still foreign. Thus, just as with any new language, it is imperative to converse with those who know the language so that you can practice in a more realistic form that the classroom. I was able to better grasp the research topics that everyone else presented on, and also how to most effectively answer information regarding my own presentation. My topic was entitled, "The Effects of Marijuana and Amphetamines on Future Expectations of Students", and it was an overall great experience that resulted in growth, more expansion in my field's language/terminology, and also more compatibility and conference in my own research topic. I appreciated this experience a lot, and I am glad that I was able to represent Longwood in such a professional setting!