VSCA Conference 2017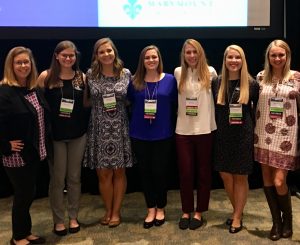 I enjoyed my experience at the 2017 Virginia School Counseling Association (VSCA) Conference in Hampton Roads. Lead Well was the theme for the 2017 conference. My favorite part of the 2017 conference was the opening session keynote speaker Dan St. Romain, M.Ed. Mixed Messages: The Changing Face of Discipline. The home, school and society has drastically changed within the past few decades resulting in a striking effect on student behaviors. During Dan St. Romain's collaborative session, participants assessed the dynamics and examined implications for school counselors as a result. The remainder of my day consisted of attending specific breakout sessions focusing on Well-Being Therapy, Supporting Transgender and Gender Non-Conforming Students, Graduate Student- Roundtable, Filling the Gap: Identifying and Developing School Counselor Leaders and The Power of Passion in Career Development. I appreciated the Graduate Student Round Table the most since it focused on the issues and topics related to starting careers in school counseling. That night I attended a Networking Social for School Counselors. Friday involved attending three other breakout sessions and closing out the conference with an awards luncheon and keynote speaker. I am glad that I attended the 2017 VSCA Conference and appreciative of the experiences I took with me.
Comments are closed.