VSCA Conference 2017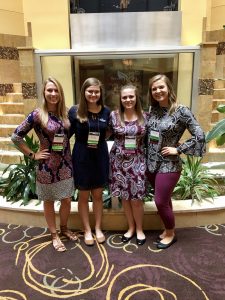 Hi all! My name is Jessica Morris (in the navy dress!) and last week, I attended the Virginia School Counselor Association conference in Hampton, VA. My school counseling cohort arrived to the Embassy Suites in Hampton on Wednesday night. After we checked in to our hotel rooms, we went downstairs to a meet and greet where we could mingle with other school counseling professionals. We were up bright and early on Thursday morning for continental breakfast and we then headed next door to the conference center. After an exciting keynote speech, we split up and attended breakout sessions about various school counseling topics. That night, there was another meet and greet at our hotel and we were able to connect and talk with some of the people we had met earlier in the day. Friday was our last day. We again attended breakout sessions and a closing keynote speech and luncheon. For my first conference experience, I really enjoyed it! I think my peers and I learned a lot and I look forward to going again in the future!
Comments are closed.