2017 Speech-Language- Hearing Association of Virginia Convention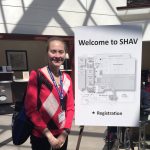 On March 23-25th, I was able to attend my second Speech-Language- Hearing Association of Virginia Convention this year in Richmond, Virginia!  I attended sessions that provided me with several resources and references that will be useful to me as an upcoming graduate.  During the conference, I broadened my knowledge of assessment and intervention methods for children with autism spectrum disorder.  I learned about several apps that can be downloaded with a variety of purposes that will be helpful when working with children and adults.  There were several companies and school systems at the conference that are currently looking to hire speech-language pathologists.  I signed up to receive information from various schools and other facilities to learn more about their job opportunities.  I also met representatives from various companies that assist the speech-language pathologist locate jobs and find contacts with schools, home health care, skilled nursing facilities, and other settings.  I was able to network with individuals in the field of speech-language pathology.  During the conference, I collected information packets on various types of pediatric and adult hearing aids.  These brochures and packets will be helpful resources for me in the school system since there are not always audiologists on staff.
Comments are closed.