VAASL Conference 2016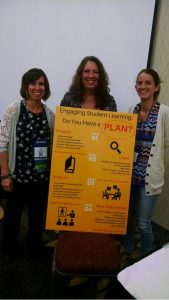 Recently I was fortunate enough to attend the Virginia Association of School Librarians (VAASL) conference in Norfolk, VA. The conference took place over the course of three days with a wide variety of breakout sessions each day. Some of the sessions were for professional development while others were to help guide new librarians, such as myself. I learned about great apps to use with students in math and science, the importance of diverse books in the library, how to create student centered libraries at the elementary level, ways to engage students in the library, the importance of inquiry based learning, the future of school libraries and these were just a small fraction of the numerous breakout sessions available to attendees. There were amazing authors who shared their love of writing and books with us, and also keynote speakers who engaged us and talked of the future of school libraries. It was an honor to be able to attend this conference and be amongst this awesome group of individuals. I look forward to attending many more conferences in the future and continuing to learn and grow professionally from this group.
Comments are closed.