First Time Shav Attendee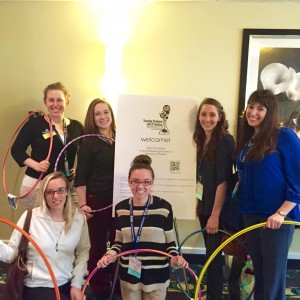 Having the opportunity to attend a Speech-Language-Hearing Association of Virginia's conference was a wonderful experience. There are so many sessions to choose from that sometimes, it was hard to pick which topics I wanted to learn about. The sessions were led by intelligent professionals, and I even went to one of our very own professor's lecture. My favorite session was on AAC devices, and after the lady spoke, we played with the different devices she brought. This hands on experience was helpful, and taught me more about the pros and cons of different apps and devices used for communication.
In one room, there were professionals from many different companies at tables. We went around to different companies, talked about what they do, and saw many different products. Some of them even handed out free stuff, like a hula hoop (as seen in my picture) or samples of Simply Thick!
Being immersed in a conference with so many people that are in the same field or want to be in the same field was an amazing opportunity that I will not forget. I enjoyed learning about new topics and therapy items. I know I will implement much of what I learned into my own therapy sessions. I had a great time, and I cannot wait to go back to a conference.
Comments are closed.