VSRA 2015 Annual Conference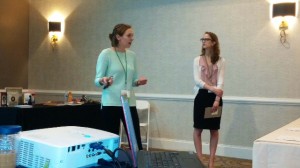 Recently I was able to attend the Virginia State Reading Association Annual Conference in Richmond, VA.  I am currently enrolled in Longwood's Reading, Literacy and Learning program, and found that presenting at this conference as well as attending different sessions was very beneficial to me.  The sessions that I attended, such as a general session by Richard Allington, highlighted statistics to help us understand how reading (and lots of it) benefits our students.  I also attending sessions by fellow grad students such as Kayla Brock and Kelly Farr (among others) who gave us some great ideas for fun and engaging activities to use in our classrooms. One of the most beneficial sessions that I attended was that of Julia Dudley-Haley who showed us multiple websites where we could find free leveled text! Overall attending this conference not only helped me to develop my skills as a presenter but it also provided me valuable information that will help me in the future as a classroom teacher or reading specialist.
Comments are closed.