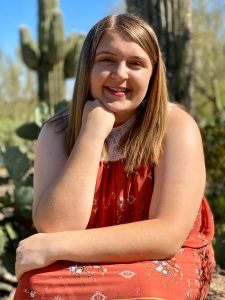 My name is Molly Mancini and my Senior year as a student of the Cormier Honors College within Longwood University is currently in progress.  I am a Nursing major with a minor in Spanish.  I plan to pursue an additional certification that will allow me to become a forensic nurse.
When I was younger, I got the opportunity to meet a forensic anthropologist as a career day in middle school.  I was immediately captivated by forensics.  In high school, I took a forensic chemistry class that had a lesson in forensic nursing.  I thought that this profession was interesting.  Then I took an anatomy class and fell in love with the human body, the brain, and the skeletal system.  Since then, I have always wanted to be a forensic nurse.
My current plan for after I finish college is to begin my nursing career in a typical hospital for two years.  After that, I hope to pursue a SANE certification which would allow me to become a forensic nurse.  My dream is to help treat victims of domestic violence, assault, and rape, and help them to move past their trauma. During my time at the Cormier Honors College of Longwood University, I hope to learn valuable nursing skills to help me in my pursuit of becoming a forensic nurse.