Virginia School Counselor Association (VSCA) Conference 2018
I am Amy Ligon, second-year school counseling graduate student. I had the opportunity to attend the Virginia School Counselor Association's annual conference in Hampton Virginia. I attended the conference with several of my fellow Longwood University school counseling classmates. It was a wonderful experience. I volunteered Wednesday afternoon at the registration booth where I got to meet several school counselors from around Virginia who were attending the conference as well. Thursday, we attended three to four breakout sessions covering topics pertaining to all levels of school counseling. I also had the opportunity to attend the graduate student career café where I received feedback on my resume and interview tips from seasoned school counselors from all over Virginia. On Friday we attended three more breakout sessions. I enjoyed the breakout sessions that were interactive and had fun take homes to bring back to my internship. I did actually end up using two activities that were introduced to me VSCA at my internship the following week. After the breakout sessions on Friday, we packed up and headed back to Farmville. All in all, VSCA was a great experience. I am already looking forward to the conference next year.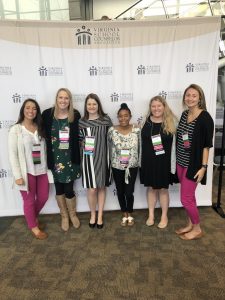 This entry was posted by Amy Ligon on November 6, 2018 at 8:51 am, and is filed under Uncategorized. Follow any responses to this post through RSS 2.0. Both comments and pings are currently closed.
Comments are closed.