VAASL Annual Conference: Norfolk 2016-2017
Oct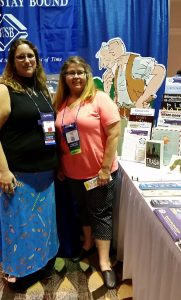 ober 20, 2016
Today was the first day of VAASL (Virginia Association of School Librarians).  All I can say is it was a fire-hose of information!  It was very overwhelming to be around so many librarians, and having to decide what sessions to go to!  I appreciated Frances' advice of sitting near the door (for easy escape) and tried to do at least half of all the sessions I attended (allowing me to see twice as many session). I started the morning in a session that linked the VA Reader's choice books to state standards.  They had great handouts about all the different activities that could be done at the elementary level, but didn't address any of the middle grade books.  From there I caught the end of a session on the magic of series (which was very disappointing). After the morning session we saw the keynote speaker, Dr. Rob Furman.  I spent most of his session firing off e-mails to my colleagues back at Smart's Mill about all the great resources he shared.  I particularly want to check out James Patterson's website www.readkiddoread.com (books for reluctant readers).  In the afternoon I went to a session on becoming Google certified (which is very easy to do and only $10 to apply), then we went to the first timers tea and got all sorts of free books!  My favorite session was the one I only caught the tail end of, which used themes to tie different fiction books together.  The presenters were so animated, and there are so many great titles!  I ended the day with author Ginjer Clark, who writes nonfiction books on weird animals.  Her focus was on encouraging reluctant readers to engage in nonfiction by showing them the odd and disgusting.  I had a great time seeing everyone at the alumni event, and was impressed by Audrey's ability to name everyone (and so quickly!).  I loved the tribute to Frances – "Oh the Places You Will Go!"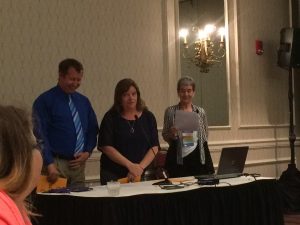 October 21, 2016
Today was a fabulous day – best day by far!  All the sessions were absolutely amazing.  I began with the Junior Library Guild and their new releases for middle and upper grades.  I need to figure out how to get advance copies of books – what a tease!  My next session was sponsored by a math teacher aspiring to be a librarian and which Tech Tools we should integrate into the library to win over our math and science teachers.  My poor math SALT must have received at least 5 e-mails from me during this session!  Then we went to a session on Picture Books at the middle school level.  I was especially excited for this session as November is National Picture Book Month, and one of my reading promotions is to get each content to use a picture book to support their lessons.  The keynote speaker today was Mr. Schu – who is the fabulous library ambassador for Scholastic.  What a dream job!  Such an amazing speaker, and he was able to create such energy in that room.  Everyone should get a chance to see him speak!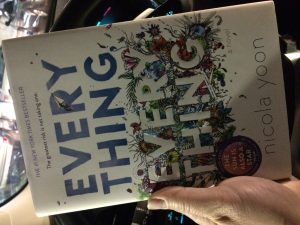 October 22, 2016
Short day today – only stayed for two sessions.  The first was on the Best Apps for 2016 sponsored by AASL.  Many of these apps were new to me, so my principal is allowing me to use 10 minutes in a faculty meeting to share with our staff.  My second session was presented by two first year librarians.  It was titled I Survived!  Overall it wasn't the best presentation, but I did win a free book!  It did make me think about what I would want to share at VAASL next year if I were to present as a first year librarian.  So glad to have had this opportunity!
Comments are closed.