VAASL 2016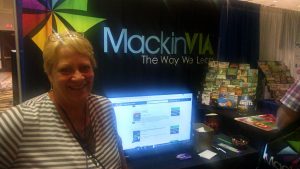 The VAASL conference was a wonderful experience and I am so grateful for the opportunity to attend.  I learned: how to access and view 3D Civil War photographs as primary sources, how to take a Virtual Field Trip, about the 1939 Sit In at The Alexandria Public Library, that a new book Shadow House, has an app to accompany the book, the power of conducting a Mock Caldecott award in my classroom or library, that two anonymous copied WalMart receipts can be used as primary sources, Encyclopedia Virginia has free lesson plans created by ODU students, to provide a copy of free wifi spots in the area around my school to my students, and that Google Cardboard combined with Encyclopedia Virginia and the StreetView app is a mindblowing experience!
One other interesting thing I noticed – when I have attended conferences with teachers in the past, the acquisition of handouts can be a cutthroat experience. At VAASL, if a presenter ran out of handouts, someone with a handout would say, "Here take a picture of mine." Interesting, right?
Comments are closed.