Virginia School Counseling Association Conference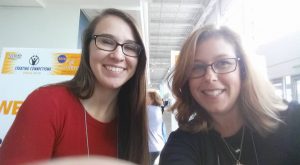 I had such a wonderful experience at the Virginia School Counseling Association (VSCA) Conference! The theme this year was "Creating Connections", and I definitely made some amazing connections thanks to my amazing professor, Dr. Wynne (pictured here taking a selfie with me!). She introduced me to everyone it seemed like! I was so grateful to have her there as a guide and resource. I began the conference with a pre-conference session on working with LGBTQ+ youth by Charles Dyson. It was extremely interesting, and I learned new information, such as the prevalence of an individual being born intersex is the same as those being born with red hair. I was able to meet several school counselors and administrators at the President's reception that night. The next day was full of many sessions ranging from classroom management to yoga guidance classroom lessons. The last day we had a lunch with keynote speaker Gayle Danley. She is a slam poet, and her poems left everyone speechless. She was so powerful with her words. This experience is one I will never forget. I am so thankful that I was able to attend, and hope to in the years to come.
Comments are closed.