VSRA Conference 2016
I recently had the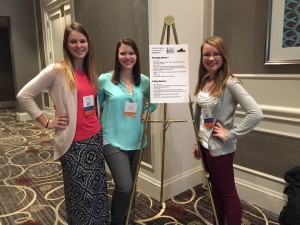 opportunity to attend the Virginia State Reading Association 49th Annual Conference in Norfolk, Virginia. This was a weekend conference full of literacy speakers and concurrent sessions from around the state. My peers, Alyssa Cardwell and Emily Swale, and I were lucky enough to be the speakers at one of the sessions on Friday morning. We gave a presentation on "Integrating the Arts into Literacy" which included information about how to implement music, theater, and visual arts into the elementary and middle school literacy curriculum. We discussed multiple strategies and had many hands-on activities to go along with our information. Our audience seemed very engaged and were happy to take away some of these activities to use in their own classrooms.
After our session was over, we were able to attend several of the other sessions available at the conference including one very informative session that focused on writing in the primary grades. I left with many free resources and ideas about how to make literacy, not only fun, but effective in my own future classroom. I am glad I was able to attend this conference as well as to have had the experience to present to a group of educators. It was definitely a worthwhile experience and I look forward to attending another conference in the future!
Comments are closed.