SHAV Conference 2016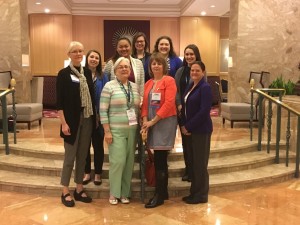 A few days ago I had the opportunity to attend the Speech-Language Hearing Association of Virginia (SHAV) conference in Chantilly, VA.  It was such an amazing experience that I am so glad I was able to share with my fellow students as well as my professors.  I personally went to sessions about reading strategies, Augmentative and Alternative Communication, Core Vocabulary, Early Intervention, and SLP licensure (just to name a few). Attending SHAV has expanded my way of thinking about my future as a speech-language pathologist in that it has showed me how passionate the professionals in my field are and how we are constantly striving to learn and improve. There are so many aspects to explore within our small field—feeding and swallowing, AAC, voice, articulation, language, fluency, pragmatics…
It's daunting but also exhilarating. I will able to use my degree to open doors of communication for such a diverse population.
I am extremely lucky to be where I am right now –in a fantastic graduate program where my professors cheer me on and provide opportunities for me to grow and where I am surrounded by the sweetest group of girls I have ever known who support me in every aspect of my life.
Thanks for the memories SHAV.
Comments are closed.