SHAV Conference 2016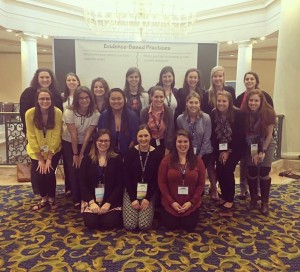 This past week, I was afforded the opportunity to attend the Speech-Language-Hearing Association of Virginia (SHAV) 2016 conference in Chantilly, Virginia. I attended the preconference on Wednesday, and the day-long conference on Thursday and Friday. This was my first time attending this annual conference. I had the opportunity to attend sessions covering various topics including: ASD (Autism Spectrum Disorder), AAC (Augmentative Alternative Communication), Language and Literacy Through Art, etc. I also had the opportunity to network with various vendors from all over the state and some from outside of Virginia. This experience was very memorable for me and I am looking forward to attending the conference next year in Richmond, Virginia. I was able to share this experience with all of my peers in my cohort and with many members of the Longwood CSDS faculty. I am anxious to implement the knowledge that I gained from the conference in my future therapy sessions. I am very much looking forward to my future as a Speech-Language Pathologist.
Comments are closed.