VAASL Conference 2015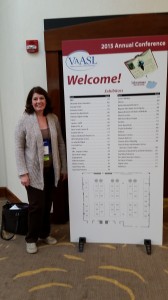 I attended my very first (of hopefully many!) VAASL Conference in Williamsburg, VA. The atmosphere was upbeat and contained so much information that my mind is still reeling!! The speakers were professional, prepared, and entertaining (the Keynote Address was amazing)! The technology-based sessions were full of useful interactive tools, apps, and websites that can be integrated into the curriculum. I learned about the safe, non-tracking, search engine, DuckDuckGo, and have already begun singing its praises at my school. Additionally, the real-life examples shared were so intriguing I have been sampling Kahoot! quizzes, making interactive ThingLinks, and have been investigating all that Skype Virtual Field Trips have to offer. The session I attended titled, "What's New in Children's Literature" was an incredible, fast-paced showcase of amazing picture books, which allowed a sneak peek into the text layout, and they even provided connections to the VA SOLs. There was a session on book repair where I got to learn first-hand from professional librarian's how it is done when you are on your own with minimal funds. I was also fortunate to attend one of the my professor's sessions. Dr. Audrey Church presented to a standing room only audience on the "Top Ten Topics and Trends for 2015".   I received a plethora of resources on a wide –range of topics, including coding, stations, and diverse books. Being able to network with librarians was such an incredible opportunity – everyone I spoke with was eager to provide me with answers and guidance. I cannot wait to attend again!
This entry was posted by Marci Hoyt on December 1, 2015 at 5:18 pm, and is filed under School Librarianship. Follow any responses to this post through RSS 2.0. Both comments and pings are currently closed.
Comments are closed.