2015 SHAV Conference a success for CSDS Grad Students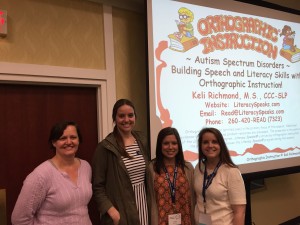 SHAV, which stands for Speech-Language-Hearing Association of Virginia, holds an annual conference that provides Speech Language Pathologists and Communication Sciences and Disorders students (both Grad and Undergrad) the opportunity to attend a 3 day conference. This conference is made up of research posters, multiple sessions covering a variety of areas within the field, as well as opportunity for networking with different agencies and other professionals. This year, the conference was held at the Doubletree by Hilton in Richmond Midlothian over the weekend of March 26th-28th.
The year was my first year in attendance. 'Autism-Building Speech and Literacy With Printed Cues!' and 'Civil War Acoustic Shadows' were the names of the two sessions that I attended this year! These sessions provided me with information that was relevant to this profession for intervention as well as expanding my knowledge on acoustics using a fun and interesting context.
I already have plans on returning to SHAV for many more years to come! This weekend left me feeling excited and motivated towards my future career! SHAV was a huge success among the CSDS Graduate student cohort! I am very grateful to Longwood University for pushing me to do my best as well as providing me with the opportunity to attend this conference!
Thank you!
Holly Wall
Graduate Student, Class of 2016
Comments are closed.