Bringing Reading to Life: VSRA Annual Conference 2015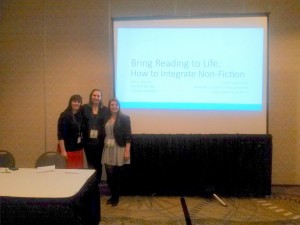 This past weekend I had the opportunity to attend and present at the Virginia State Reading Association's Annual Conference.  I presented with two of my Reading, Literacy, and Learning classmates.  Our presentation was called "Bringing Reading to Life: How to Integrate Non-Fiction."  Our presentation focused on combining kinesthetic learning with the use of non-fiction texts in the classroom.  We had a blast sharing our ideas and activities with our session's attendees, and even learned some new ideas from them during group discussion.  Presenting at the conference was such a great learning experience.  I had never presented at a state conference before, and now I know what to expect.  Another great part of the conference was visiting the vendors.  I liked being able to talk to the vendors and learn about new products to use with students.  My favorite part was learning about "Words Their Way With English Learners."  Words Their Way has been a staple resource of our program and I cannot wait to check out the their book for working with English Language Learners.  I look forward to attending many more VSRA conferences!
Comments are closed.