Virginia State Reading Association Conference 2015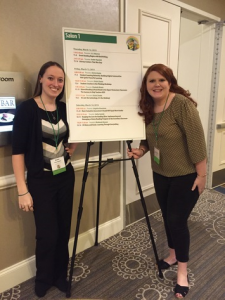 From March 12 through 14, I was able to attend the Virginia State Reading Association annual conference held in Richmond, VA.  The conference was a wonderful opportunity to attend numerous sessions each day and included featured speakers as well, and well known authors such as  Jeff Kinney (author of Diary of a Wimpy Kid).  I was able to attend several different sessions that covered many different topics.  I enjoyed being able to pick from so many presentations to attend and feel like I was really able to gain valuable information from the sessions that I can one day apply to my own classroom as a teacher.
During this conference, I was also able to present a presentation of my own with a classmate.  Our topic was titled Literacy Centers: That was Easy.  Our room reached full occupancy about 8 minutes before it was scheduled to start, and our presider had to close the doors and post a sign saying the room was full.  It was very exciting to not only have the opportunity to present at the VSRA conference, but it was a great experience to have so many people attend our presentation.  Following the presentation, my co-presenter Leah and I were invited to give our presentation at a school district.  The reading specialist for the county asked us if we would bring our presentation to her county to give a professional development session to the teachers in her schools.  We were both very excited.  The excitement was followed up by a different school system then encouraging us to apply to their school district for open positions they had.  The networking and opportunities gained from giving this presentation was a great experience for me.
I truly had a wonderful time at the VSRA conference.  It was nice to hear presentations from teachers all across Virginia.  I gained many valuable ideas from those presentations on topics such as journals, literature circles, blogging in the classroom, text investigation, and so many more.
Comments are closed.