Virginia Counselors Association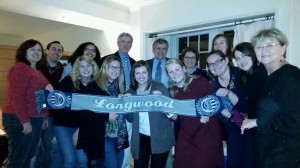 This November, I had the opportunity to attend my first professional conference. This year, the VCA conference was held at the beautiful Williamsburg Lodge in Williamsburg, Va. During the weekend, I attended sessions on grief, ambiguous loss, ethical concerns regarding social media, infertility issues, play therapy and even how to use Disney stories and characters in counseling sessions. I had the opportunity to network with a variety of school and mental health counselors and gain their advice about entering the field as a new professional. The keynote speaker, James Lloyd, a well-respected motivational speaker, opened up the weekend with an encouraging message. He emphasized that we as counselors should strive to provide grade A "customer service" and care. He stated that when people receive exceptional service, it is an experience that remains with them for life. He added that it is essential to have the attitude of "There you are" rather than "Here I am" when we interact with others. Those words have and will continue to stay with me as I enter the counseling field.
This conference has taught and reminded me not only how vital our profession is, but also how people find hope and healing everyday from our interventions and care. This conference has provided me with new tools to go into my counselor toolbox and has most definitely reminded me why I am studying to become a counselor.
Comments are closed.