VAASL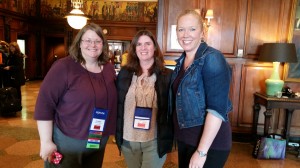 I attended the VAASL Conference in Roanoke, Virginia.  It was an exciting and educational weekend.  This was my first professional conference and was impressed at the choices that were offered to me.  I started my weekend with reviewing positive behavior management in the session, "Are you spending to much time on discipline?" The presenter went over core beliefs that are the basis of positive behavior management.  One belief that made a particular impact on me is that caring is key.  I have found this to be super important in the classroom and I am interested in how a librarian shows kids that she cares when she sees most students for a very brief time.
Next I learned about good picture books to use with older students.  I was introduced to Patrol by Walter Dean Myers.  This gripping, suspenseful and thought provoking story is done in a picture book format but is definitely not appropriate for anyone below middle school.
I also learned a lot in "Family Reading Night:From Hot Mess to Big Success." The presenter had great ideas that I can't wait to try.  I learned about some great tools in "Using Web 2.0 Tools in Your Library".  Lastly I gained a ton of resources from Dr. Audrey Church's session, "Top Ten Topic and Trends". I look forward to attending The VAASL Annual Conference again next year.
Comments are closed.