Conference Candor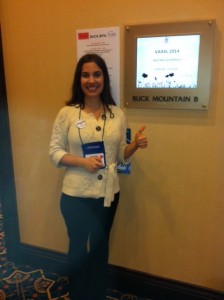 From the gorgeous weather to learning at least six new digital resources, I thoroughly enjoyed the VAASL conference in Roanoke!
My attendance at the conference had many high points.   My favorite session  was Project CPR: Bringing Life into Your School.  Presenter Catherine Rolfe walked us through how to have the students create Vokis, Wordles/Tagxedo word clouds, Animoto videos, and image editing tools such as Tuxpi.  The latter was something that I had not even heard of before. The presenter also shared her own examples of products that she herself made with these websites.  I know that our English teachers will find all of these resources useful once I share what I learned with them in my brief visits to their planning meetings.
I also attended a session entitled "Interesting Literature Lessons at the Heart of Technology." The presenters provided some great examples of how librarians can incorporate technology into lessons focused on fiction works that are taught in middle school, such as Stargirl by Jerry Spinelli.  Our school is considering using this book next year for One School, One Book initiative, and I know our students will benefit from the project examples and templates they shared.  I loved learning about how to use QR codes to create digital scavenger hunts where students use iPads to scan and answer questions!
From the gorgeous venue to the lovely, fall drive, the entire experience was wonderful!    I have to say, my favorite moment, though, was listening to Dr. Church's speech and seeing her grin in surprise when everyone raised their pink "Team Audrey" signs!!  I have so enjoyed taking her super organized, informative classes, and so it was nice to see her relish this opportunity (and to get some recognition!)
Comments are closed.