ALGBTIC Conference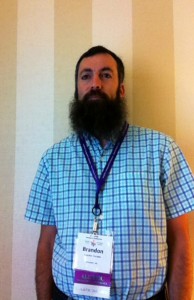 – submitted on behalf of Brandon T. Nuckols
I attended the ALGBTIC inaugural conference in New Orleans, Louisiana, which was held on September 19th and 20th of 2014. The ALGBTIC is a division of the American Counseling Association (ACA). The ALGBTIC stands for the Association for Lesbian, Gay, Bisexual, and Transgender Issues in Counseling. My interest in attending this conference was in part due to my strong interested in gaining more knowledge regarding LGBT issues in counseling. I was also interested in attending this conference in order to gain insight, to network, and to perhaps get some directions with my plans after completing my graduate degree in May of 2015. My hope is to perhaps specialize in working with LGBT clients in a counseling setting.
The conference itself felt very high energy, meaning that the vast majority of individuals attending the conference were excited to be there and very passionate about LGBT issues in counseling. There were individuals present at the conference from throughout the United States. Some were professional counselors, others were counselor educators, and still others were graduate or doctoral students.
I attended several presentations focused on transgender issues primarily this is an area I recognize that a gap in my knowledge exists. I learned a great deal, but recognize I still have more to learn regarding transgender issues in counseling. I also attended several presentations focused upon LGBT issues relating to religion including the highly controversial "conversion therapy" and how religious fundamentalism has impacted LGBT clients and counselors. There were also several presentations that I attended that were focused upon the counselor's role as an advocate for LGBT clients.
The most memorable event at the ALGBTIC conference was the luncheon and ceremony on the second day of the conference. I was not expecting such a positive emotional ceremony. A great deal of the history and struggle of the ALGBTIC division within the ACA was shared. This conference was the culmination of a long struggle and a great deal of work from many individual counseling professionals. Among those present at the ALGBIC inaugural conference included the first openly gay president of the ACA, the first openly lesbian president of the ACA, and the President-elect of the ACA. I cannot say enough about how moving of a ceremony the luncheon was for me.
Overall, I am very appreciative of the opportunity to have attended the ALGBTIC inaugural conference. I would not have been able to attend this conference without the help of the College of Graduate and Professional Studies. This conference provided me with a great deal to consider as I move forward in my career. I plan to remain a member of the ALGBTIC and hope to attend all future conferences. I feel that LGBT issues in counseling are of growing importance and that it is equally important that future counselors are competent in working with LGBT clients.
Comments are closed.