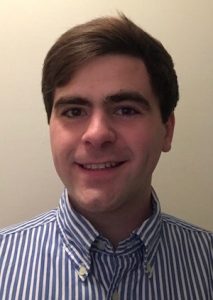 Congratulations to Christopher Crider for successfully completing an internship with STEPS, Incorporated during the fall semester of 2017. STEPS, Inc. is "an internationally accredited, multifaceted regional nonprofit with a 30-year history of positive results to help people break the cycles of poverty." The organization "creates effective partnerships with local governments, state agencies and other non-profits, private businesses and faith communities to achieve success."
Here is a reflection on the professional writing skills Chris utilized during his internship:
"Interning at STEPS, Inc. during the 2017 fall semester was certainly insightful as I learned a lot about professional writing in a short period. Right away, I was able to examine principles and practices of effective professional workplace communication, including visual and written communication, in a workplace setting at STEPS. I accomplished this goal by researching, as well as creating, different types of workplace documents such as employee assessments, client referral forms, satisfaction surveys based on employee performance, volunteer documents outlining volunteer responsibilities, a volunteer sign-in/out form, and finally the annual report. Through the research and creation of these documents, I was able to analyze rhetorical situations in online written communication for areas of focus such as attention to audience, purpose, format, and context. Each professional document's audience varied, thus, it was essential that I took the opportunity to analyze the rhetorical situation being addressed for a particular document before sending out my final copy. The creation of these different documents also allowed me to create professionally crafted and revised print and digital documents within a variety of genres for various purposes that ultimately demonstrated my understanding of the rhetorical situation at hand.
With all of the different types of documentation, it was imperative that I took the time to reflect on the processes for preparing professional documents in a way to ensure their effectiveness and success. One of the most important processes, and often most challenging, was to create the STEPS 2017 Annual Report. Throughout the internship, I was tasked to organize data needed for the annual report. This included conducting interviews with various STEPS employees and then creating different narratives for the annual report based on those interviews. I had to rely heavily on different aspects of design in order to have an idea as to what the annual report may look like. In fact, I had to effectively utilize design elements throughout the creation of each and every technical and professional document I created for STEPS, such as the use of white space, choice of font, and so on. Ultimately, I had to use these design elements in various professional documents in order to benefit both the business and the clients of STEPS. Further, I had to make sure to create these documents in an effective manner by using plain language to ensure that there was no barrier in communication for our clients.
STEPS, inc. allowed me to communicate both internally and externally at the organization. Internally, I conducted interviews with STEPS employees and representatives, sat in on important STEPS meetings, delivered an inventory assessment document for each employee to fill out, and reported on the organization's goals, developments, and accomplishments in the annual report. Externally, I was able to assist in the STEPS Annual Christmas show, which advocated for community involvement by providing free entry to a meaningful community event hosted each year at the STEPS Centre in Farmville. Aside from reaching out to the community through volunteering with the organization, I was able to externally communicate at STEPS by contacting previous as well as current clients in order to receive their feedback on the organization through the STEPS Satisfaction Surveys. I also contacted people in the community that were seeking assistance with STEPS programs such as the Energy Share program, a program which financially assists underserved community residents with their electric bill. Through this, I was able to externally communicate to the community in which STEPS seeks to serve since I was reaching out to the potential future clients of the organization.
I was not only able to experience and create professional documents in a professional environment, but I was also able to connect my coursework at Longwood University to the various tasks I accomplished throughout my internship at STEPS, Inc. Thanks to my coursework at Longwood in classes such as Professional Writing, Technical Writing, Visual Rhetoric and Document Design, and likely many others, I could accomplish my tasks as an intern with more than limited knowledge of professional writing documents. I felt like I already had a strong foothold in my internship position due to the classes I have previously taken at Longwood University. Further, my tasks and responsibilities as an intern of the STEPS organization helped to strengthen and further develop my professional writing skills as well as my ability to create professional documents in a professional setting. I definitely learned a lot throughout my internship at STEPS, and I would recommend the position to anyone seeking to improve their professional writing skills in a professional environment."