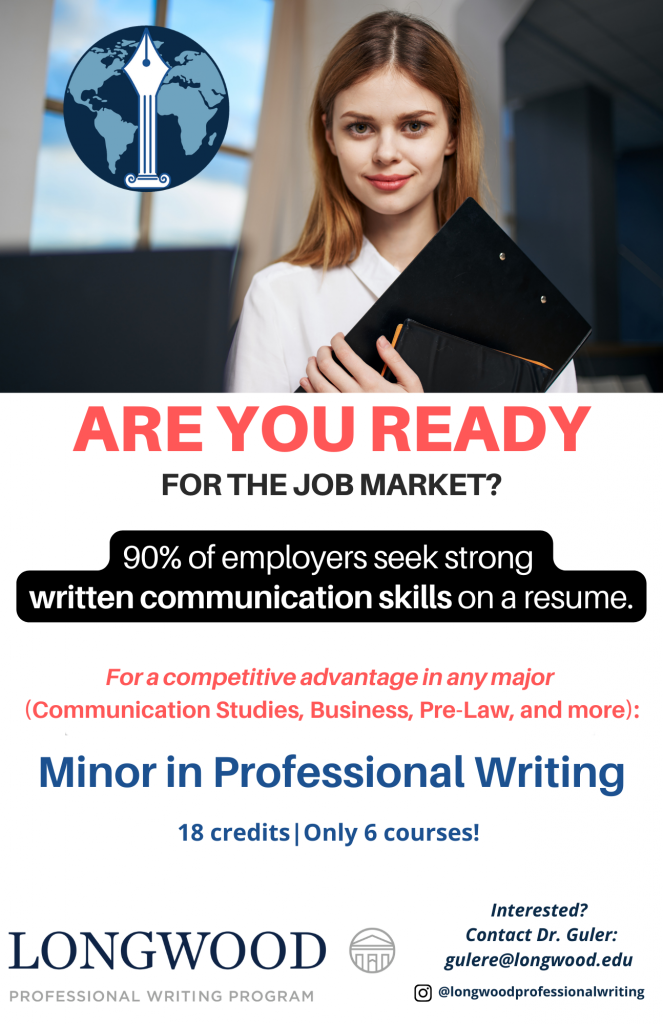 Employers often state that they'd like their team members to demonstrate stronger professional communication skills. Longwood's Professional Writing Concentration/Minor provides students with a firm foundation in effective communication and persuasion practices in professional environments.
Our courses focus on foundations of persuasion for professional/public uses, rhetorical analysis of a variety of texts ranging from speeches to digital media, and multimodal document design for a range of audiences.
The only prerequisite for a minor in Professional Writing is ENGL 165 (Writing and Rhetoric). The concentration requires being an English major.
Both the minor and concentration can be completed by taking 18 credits (only 6 courses) from the list below:
Required (9 credits)
ENGL 219 Introduction to Rhetorical Studies
ENGL 301 Rhetorical Criticism
ENGL 319 Technical Writing OR ENGL 470 Professional Writing Skills
Electives (9 credits)
ENGL 210 Introduction to Digital Writing
ENGL 303 Visual Rhetoric
ENGL 305 Special Topics in Rhetoric & Professional Writing
ENGL 319 Technical Writing OR ENGL 470 Professional Writing Skills
ENGL 490 Independent Study
ENGL 492 Internship in Professional Writing
Consider adding a Professional Writing Minor to your resume today!
To add PW as a minor:
Download, fill out, and sign Longwood's Program Change Form: http://www.longwood.edu/media/registrar/public-site/Program_Changes-current-2021.pdf
Under "Program Change Information," check the "Add" box. Put "Professional Writing" in the "Minor" line (if you are an English major, you can also list PW in the "Concentration" line).
Don't forget to read and check the two boxes below the signature line.
You may scan and mail your form to the Office of the Registrar (registrar@longwood.edu) or hand-deliver it, with your photo ID, to Brock Hall 112.

For more information, please contact Dr. Hazel Elif Guler, Program Coordinator: gulere@longwood.edu