Check out the changes and NEW course offerings in the Professional Writing Program (starting with the 2020-2021 catalog year)!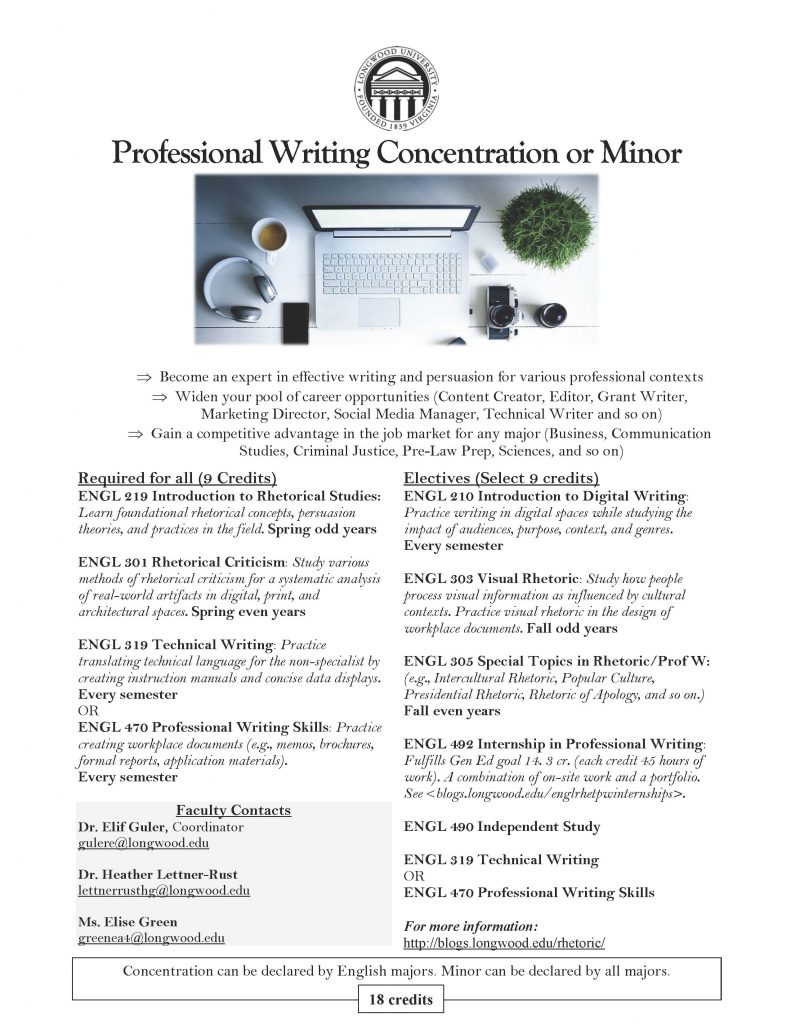 Here are the upcoming Professional Writing course offerings:

SUMMER I – 2021

ENGL 210 Introduction to Digital Writing – Online/2 sections – Guler OR Lettner-Rust: "What happens when we hit 'enter'? And how can we ensure our efforts are being received with our intentions? Employing persuasion theories, we will create texts addressing multiple audiences, bringing together visual and alphabetic texts that involve readers in the construction of those texts. *For students in the catalog year of 2020-21, this fulfills an elective for the PW Concentration and Minor."

ENGL 319 Technical Writing – Online/Lettner-Rust: "You will create documents that clearly and concisely convey complex, technical or scientific information to targeted audiences, demonstrating effective visual and verbal elements. Last semester, we watched the film Dark Waters and developed documents communicating an understanding of the properties of the manmade chemical C-8 in water and soil for the local residents in the film. Fulfills a requirement for the English major. Also required for PW concentrators."

ENGL 470-B01 Professional Writing Skills – Online/Guler: "Writing for workplace settings from a rhetorical perspective. Students will study the foundations of professional communication, document design, persuasive writing, and promotional strategies. The course will culminate in a portfolio of documents commonly found in the professional world (e.g., applications, brochures, professional profiles, etc)."
FALL 2021

ENGL 210: Introduction to Digital Writing (Guler/2 sections/TR 12:30-1:45 OR TR 2:00-3:15): See the course description above.

ENGL 219 Introduction to Rhetorical Studies (Lettner-Rust/TR 9:30-10:45): We will examine the works of our modern world–monuments, architecture, speeches, and more–through the lens of classical and modern rhetorical concepts, design multimodal communication for specific academic audiences. Along the way, we'll sharpen our concision, cohesion, and layout skills in written communication. Pre-req: ENGL 165

ENGL 303 Visual Rhetoric & Document Design (Green/TR 11-12:15):
Students will learn the art of communication through visual elements. We will explore how messages are communicated and arguments are made in both two- and three-dimensional contexts, including, but not limited to, fashion, photography, architecture, marketing, film, and restaurant menus.
ENGL 470 Professional Writing Skills (Guler/2 sections/MW 4:00 pm-5:15 OR MW 5:30 pm-6:45: See the course description above.
Important Note for Longwood Students who have declared PW as a concentration or minor before the 2020-2021 catalog year: the new courses won't appear in your DegreeWorks , as you will still see the older versions of some courses. So, please plan your courses according to the following:
*ENGL 302 History of Rhetoric has now changed to ENGL 219 Introduction to Rhetorical Studies: The next offering of ENGL 219 is in Fall 2021 (this course is offered only on a rotation every other fall semester). If you still need to take ENGL 302 for your concentration/minor, please plan to take ENGL 219 in Fall 2021; ENGL 219 will automatically substitute for the ENGL 302 requirement.
*ENGL 301 – Rhetorical Criticism will be offered next in Spring 2022. Currently, the theme for the course is "Rhetorical Criticism of Popular Culture."
*ENGL 305 (Special Topics in Rhetoric/PW) will be offered next in Fall 2022. If you still need ENGL 305 to complete your concentration/minor requirements and you need to graduate before Fall 2021, contact Dr. Guler at gulere@longwood.edu so we can find a course to substitute for ENGL 305.
Please contact Dr. Guler with any other questions/concerns as well.