Charleigh Kondas has successfully presented her senior paper, "Perhaps We Are All Immigrants: Postcolonial Hybridity in Rupi Kaur's Poetry," to a full Martinelli Board Room at Longwood on Friday, December 1st. Charleigh's expected graduation is in May 2018.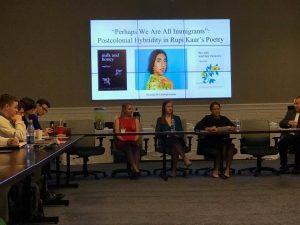 Charleigh delivering her paper (on the right)
Charleigh has also completed an internship with the Rhetoric and Professional Writing Program during the fall semester of 2017; she examined some of the principles of effective professional communication by working on the program's informational and promotional documents.
Congratulations on a semester well done, Charleigh!