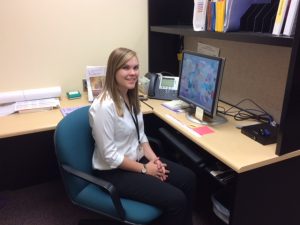 During the summer of 2017, Haley Klepatzki successfully completed an internship with Ms. Lisa Pavlock, Public Information Coordinator of the Fauquier County Public Library. Haley, who studied professional writing with Dr. Heather Lettner-Rust and technical writing and rhetoric with Dr. Elif Guler, reflects on how her studies in the Rhetoric and Professional Writing Program at Longwood University have informed her experience:
"I joined the staff of the Fauquier Library at an interesting time when the staff was in the process of devising a marketing plan in order to apply to relocate the library to a bigger and more modern building. I got the privilege to sit in on a marketing strategy meeting, where the staff discussed the future needs of the library and its patrons. Much like in my professional writing classes, we discussed the library's audience, purpose, and goals that would be required to appeal for a new building. Many people are skeptical of the relevance of libraries in this technology-based world we are living in. At this meeting, we brainstormed services the library provides that are critical and necessary to the community, some of which library patrons might not even know are offered.
During my internship, I was placed in charge of creating all of the library's content that is featured in the Fauquier Times newspaper. I spent my summer writing press releases, ads, and articles promoting summer programs and events. My experience with technical writing greatly helped me when writing content for the paper. Ethos, pathos, and logos played key roles in writing ads and articles in order to promote the wonderful programs offered at the library. Knowing proper layout and formatting, along with creating interesting and eye-catching designs was another skill that I was able to bring to the content I created for the library. I could not have felt more prepared for the tasks ahead of me, thanks to the courses I have taken at Longwood.
Much of what I have learned in professional writing classes at Longwood were relevant to the public information coordinator's job at the library. I learned a lot interning for the library and had a great time assisting staff and even patrons."
Congratulations, Haley! We are so proud of you.