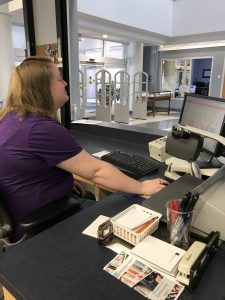 During the summer of 2017, Chelsea Smith successfully completed an internship at The Greenwood Library. Chelsea, who studied professional writing with Dr. Heather Lettner-Rust and technical writing and rhetoric with Dr. Elif Guler, reflects on how her studies in the Rhetoric and Professional Writing Program at Longwood University have informed her experience:
"I enjoyed completing my internship with Greenwood Library. On a daily basis, tasks completed applied directly to both my rhetorical studies and my current job as a library assistant in a public library. I was immersed in a work environment very similar to that of the job I currently have, but with a new perspective of working behind the scenes, which I prefer.
I was confident about applying practical skills that I'd acquired through all of my rhetoric courses. Both Dr. Lettner-Rust and Dr. Guler prepared me for this internship. Their instruction so seamlessly translates from a classroom to a workplace. The amount of workplace documentation reinforced just how much written communication skills are needed at any organization.  I spent a lot of time following manuals written to explain tasks within the library. From there, I made sure documents were consistent, well-illustrated, and easy-to-follow for new staff and student workers. I was also responsible for creating new manuals that were needed to explain various tasks such as a new library app.
Completion of my internship allowed for a newfound confidence that I will bring to my current workplace. The staff at Greenwood Library were so welcoming and were always open to discussion and questions I had about anything. I am so grateful that my completion of my internship satisfied both a graduation requirement and allowed me to use my practical work experience from a public library setting to an academic library.
This internship brought me so much closer to reaching my ultimate goal of pursuing a Master's Degree in Library Science after graduation from Longwood."
Congratulations, Chelsea! So proud of you!