Spain is a major culinary place in the world, but Barcelona in particular has many authentic foods you may not find anywhere else in Spain. The list for traditional cuisine in Barcelona could go on for days. Traditional Barcelona food would be impossible without a handful of essential ingredients. Olive oil, garlic and tomato are the top three. Barcelona cuisine is characterized by a creativity that other Spanish regions lack. For example, raisins and nuts are often mixed into vegetable dishes; rabbit is combined with snails; poultry or meat is cooked with fruit. Because Barcelona is close to the Mediterranean sea, it has great seafood dishes. There is also a notable influence from France and Valencia in cuisine.
I am going to include a list of some of the top favorites and what goes into them.
Escudella d'Olla is a stew that will typically be served in the months of October and May. There are two components to this dish; the first is a broth and then the vegetables, pasta, and meat. Botifarra, which is a Catalan sausage, and botifarra negre, blood sausage, are also common in this dish.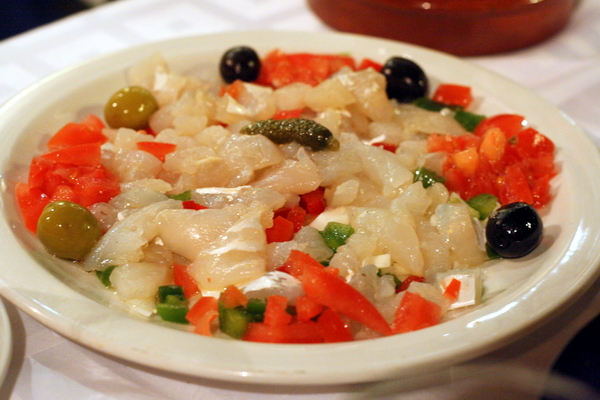 Esqueixada, which is shown above, is made during the warmer times of the year. It can often be referred to as the Catalan ceviche. The dish consists of bacalao, or salt cod, with peppers, tomatoes, onions, and olives. In addition, it can be topped with romesco sauce, which is just a piquant sauce of red peppers, nuts, garlic, and olive oil.
Suquet de Peix; seafood has a big role in Barcelonian cuisine. Which makes it no surprise that one of the favorites is a potato-based seafood stew. The dish can be made with lots of different fish and mixed together with garlic and oil. 
Fideuà is a dish that consist of a mix of seafood including cuttlefish, prawns, etc. You can pair it with an alioli sauce, which is a olive oil and garlic sauce.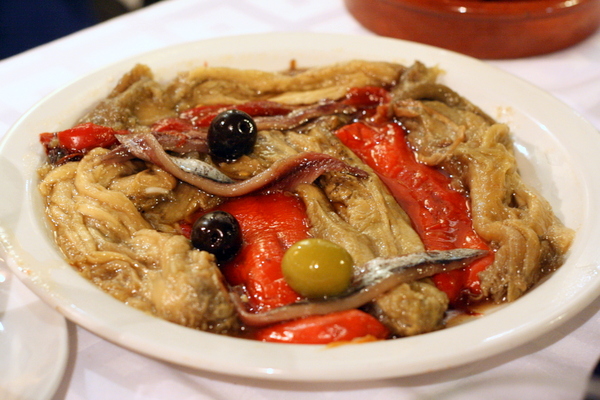 Escalivada, which is shown above. This is one of the most popular dishes of the region but is really simple. This is a vegetable dish usually consisting of eggplant and bell peppers. It is sometimes paired with onions, tomatoes and garlic. People eat escalivada as a tapa, or sometimes also as a relish for other fish or meat.
Crema Catalana is a custard dessert closely related to creme brulée. Unlike the vanilla flavor traditional of the French custard, crema catalana is lighter with a citrus and cinnamon flavor.
Mel i Mato is a unsalted soft cheese, topped with walnuts. It makes for a simple, delicious, and healthy end to a meal.
Mercat de la Boqueria is a local market that is located in Las Ramblas in Barcelona. More recently this has become a popular place for tourists. The unique market is a maze of over 2,500 square meters along which are located more than 300 stalls offering different kinds of products that are typical in Barcelona's cuisine. I want to take a moment to briefly mention the history of Mercat de la Boqueria. The current Boqueria Market sits on the site where the Convent of San José monastery was founded in 1586. With the passing of years, La Rambla became very popular among Barcelona's locals and when the monastery was destroyed in a fire, the market was moved to that particular location. The Mercat de la Boqueria is an iconic site in Barcelona.