Posts tagged
VAASL2016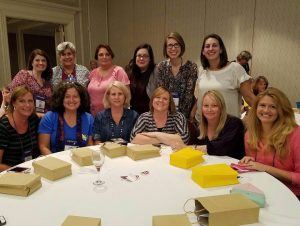 Christine Klisiewicz
Master's of School Librarianship
I left the conference excited to implement many new strategies and programs with our students. There was a lot of talk about advocating for the library with the changes brought about by ESSA. I made sure to fill out the VADOE survey and posted it to my Facebook page, and this posting received 13 shares. And I felt empowered!  Longwood represented strongly at this conference. I  am working in my first year as a full-time librarian for Prince William County, while finishing my course work in the School Librarianship Master's Program at Longwood.
My principal is on the selection committee for the 2017-2018, nominated books, and is a huge supporter of the Virginia Reader's Choice Program. She is thrilled that I am sharing the primary books with all students at our school or the first time this school year. I attended two different sessions that provided me with insights as to how to use these titles as springboards for generating interest in other similar books in our library. One of the sessions tied each book to specific Virginia SOL's.  In efforts to support our IB PYP program, I am looking for ways to highlight each of the learner profiles when it is evident in a Virginia Reader's Choice nominated book.  Another VRC session taught the ins and outs of the program, providing a timeline, the voting policies, and a lesson to use as a follow up.    I will be teaching the fifth grade students how to create book trailers for each of the primary titles.  I also attended a breakout session on using various programs with students to create book trailers. We will get these started in December.
There was a session that was led by Ginjer Clark on engaging the reluctant reader through nonfiction texts. She is the author of a series of popular animal books published by Penguin Publishers.  I got her information because she is based out of Richmond and is available for an author talk.  Even though the session was basically a sales pitch for her books, I could appreciate her enthusiasm and could tell she puts on a meaningful event for her audience of students. I want to go over her prices and the program she offers with my principal so that we can keep her in mind for the future. One of my sessions ended early so I sneaked in on the tail end of a fun preview session. I was able to grab an extra list of 2016 new released titles and their links to the SOL's.  I placed it in my principal's mailbox when I returned.  I am scanning it for titles that we must have in our collection.
Our Prince William colleague, Carolyn Vibbert, demonstrated the value of gaming in the library.  She encouraged us to dust off some good old-fashioned board games and card games to use with students. She also introduced some other games that were new to me.  This served as a great reminder that playing games builds problem solving, communication, cooperation, and verbal skills.  I am excited to encourage teachers to book the library for inside recess sessions when the weather does not cooperate. We can help students learn some iconic games that they can teach to their families.
My favorite part of the conference was networking with other school librarians.  I loved having the opportunity to attend the conference where I could learn from others' strengths and be encouraged.   It was such a magical experience to see Frances honored for her years of service.  It was obvious that she has made a lasting impact on all her students. I am excited to that next year it will be held in our neck of the woods at Westfield's Conference Center.
(In the photo, I am on the far right, sitting at the table with my Prince William cohort members.)